On Campus
SG & GLC Leaders Follow Student Voice
By Patrick Bradley
September 27, 2012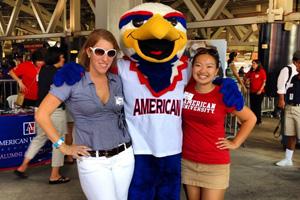 The student voice at American University is often loud and clear. With so many students studying politics, public service, and international relations, the campus knows how to campaign for what it needs and wants.
That means AU's student leaders – the undergraduate Student Government (SG) and the Graduate Leadership Council (GLC) – have to be just as strong and involved as the constituents they represent.
Current Student Government president and School of Public Affairs senior Emily Yu knows that AU's student body asks a bit more of those it elects.
"Our campus culture is so different that our student government has to be reflective of that culture. Everyone's an activist, everyone wants to be heard," she says. "That makes our student government really different in that we constantly have to be challenging the status quo or asking questions."
With this unique student body, Yu and GLC executive chair Lauren Lane are looking to ensure students know that their organizations do more than just sponsor events.
"We're keeping students' needs, interests, and wants in consideration and making sure we're enriching the graduate student experience at AU as much possible," Lane explains. "That's through both social and networking activities and bringing those needs and wants directly to administration to make sure that graduate students are best represented."
While AU's SG is well-known for the concerts it puts on through the Student Union Board as well as the speakers, like Former President Bill Clinton, that it brings to campus through the Kennedy Political Union, Yu sees SG first and foremost as an organization representing students.
"If there's any issue that students care about and want something done with it, Student Government can make that happen. A lot of students don't think of Student Government as an advocacy group, and that's because our programming gets so much more publicity," she says. "If I can do anything this year, it's to show that Student Government can make a difference in policy, that we can help solve problems."
In a move toward making a difference in policy, Yu is serving on the University Budget Committee this year, striving to improve students' financial situations in these tough economic times. She hopes to build on a legacy of significant SG accomplishments, like last year's establishment of open-gender housing on campus.
Lane and the GLC, an umbrella organization that oversees all the graduate student councils from AU's schools and colleges, hope to put an emphasis on philanthropy this year. To that end, they're holding a fund-raising 5k this fall, coupling their support of graduate students with support for the DC community.
"A crucial part of your experience getting a masters or a PhD is giving back to the community and being a part of that community. It will enrich your experience," Lane – a second-year international politics master's student – says.
Still, with the focus on advocacy and philanthropy, the SG and GLC will also be bringing their popular events to students. The GLC will feature its monthly networking socials, with a fall formal on the horizon as well.
As for Student Government, they'll continue offering the events that have won them much student acclaim. According to Yu, even the execution of these events speaks to AU's unique culture.
"What really sets us apart is that everything is student-run, student-generated. At other schools, students will bring speakers, but a lot of it is coordinated by the administration," she says. "The fact that we have KPU and groups that do all the legwork and bring publicity to the school that way is really great."

Whether through events or advocacy, these organizations and their leaders highlight a unique aspect of AU – that the student voice is strong enough on campus to consistently inform everything from rock concerts to university policy.
That voice is loud, clear, and welcomed at the student-centered institution that is AU.