Student Life
STEP-ing into College
By Patrick Bradley
July 5, 2012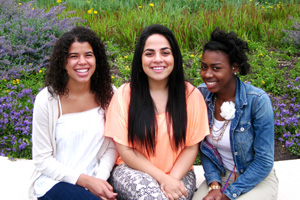 A new group of students are STEP-ing into AU.

From now through August 10th, 39 multicultural and first-generation college students will be immersed in the university's STEP program, aimed at allowing these students to get a jump on the AU experience. They're taking classes, attending writing workshops, and participating in community-building exercises. By the end of the summer, these STEP – or Summer Transition Enrichment Program – students will be more than ready to take on their first year at AU.

Under Campus Life's Multicultural Affairs department, three student assistants oversee STEP, each with a passion for the program and all it offers students.

Rising School of Public Affairs sophomore Courtney Taylor entered AU through STEP. She's excited to pass on to others the same formative experience that STEP provided her.

"I enjoyed the program a lot. I really loved it. The fact that I can be in the program again but on the other side of it is awesome," she says. "Just the type of connections you make with the students is something you only have once in a lifetime to do. I really want to have those types of relationships with other students coming in and be able to help them through their first year of college."

For seven weeks, STEP students live together, study together, and even take trips throughout the city. Undoubtedly, one of the program's strongest assets is its ability to create a supportive community during the transition to college. However, with writing and math prep courses throughout the summer, students also get a sense of the university's academic side.

Former STEP participant and current student assistant Cheria Funches appreciates the academic and personal benefits of the program.

"You have the classroom aspect that's supposed to make sure you're ready for the work load AU plans to give you in the fall," the rising SPA junior says. "I think it was an amazing experience. It's one that you take a lot from once it's over but don't understand what's going on when you're in it. You come out with this strong community from freshman year that follows you throughout your four years at AU."

Essentially, students gain a social network as well as connections to faculty and staff – all before fall classes even begin. Once the summer ends and the STEP program closes, Multicultural Affairs sticks with students for their entire academic careers at AU, always providing the solid support network that every student needs on campus.

SPA rising senior Cristina Khan has worked in Multicultural Affairs (MA) since her freshman year. Her experiences both in the department and now as a STEP assistant have changed the way she looks at AU.

"I've thought of it as a lot more inclusive since [STEP]," she says. "I think the core of it is feeling like you have an ally on your side that also has a lot of power. That's something I didn't come into college with because my parents didn't go to college and I didn't have anyone who understood the entire process from my end that would really be there. That's what MA is now."

For Funches, there was never a question about serving as a STEP assistant.

"The way I looked at it was giving back to the program that gave so much to me," she says. "I feel as though the program did a lot for me, and I learned a lot and gained a lot from participating. I would love to see that happen with more students and for more students to feel as if they have people on their side."

Over the coming weeks, Funches, Khan, and Taylor will welcome STEP's incoming students not only to AU but also to the inclusive, supportive community within it. With the passion these leaders bring to the program, their new students are in good hands to take their first steps at AU.