Achievements
Shoshanna Sumka Breaks Away
By Patrick Bradley
July 27, 2012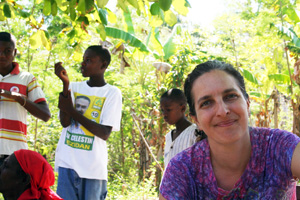 Shoshanna Sumka found her world perspective at age 16, when the Maryland native and her family moved to Kenya for her senior year of high school.

The experience abroad led her to pursue global activism, working on issues ranging from the environment to indigenous rights. She didn't exactly find the career she was looking for, however, until she landed as assistant director of global learning and leadership at AU's Center for Community Engagement & Service.

"I realized that what I mostly enjoyed was teaching students about this work, but I didn't want to be a professor stuck in the classroom," she says. "What I love about it is the experiential education piece and that students can learn immense amounts outside the classroom."

For the past seven years, Sumka has helped students get outside the classroom and into the world as the lead staff member for AU's Alternative Breaks program.

The program, originally started in the Kay Spiritual Life Center, sends students on domestic and international trips to witness social justice work in action. Past trips have focused on topics ranging from African refugees in Israel and healing after genocide in Rwanda to queer youth homelessness in San Francisco and education in Cuba – always emphasizing a bottom-up, grassroots approach to social justice.

It's this approach that makes AU's student-led Alt Break trips unique, Sumka believes.

"We're looking at the root causes of problems. We're not looking at band-aid charity fixes," she explains. "We're encouraging our students to ask questions about the root causes of why this issue is happening. We're also asking them to look at the positive sides, what's going on in the community, and what we can learn from them."

Under Sumka's watch, Alt Breaks at AU have grown from 50 students and three trips a year to 209 students and 17 trips between spring, summer, and fall breaks.

Because of her impressive work, Break Away – a national alternative breaks network of over 150 universities – has recognized Sumka as its staff person of the year. She's proud of her accomplishments, and she thinks AU is the perfect place for Alt Breaks to thrive.

"I think I got lucky," she says. "AU definitely has more international focus than other schools. I think the nature of the student body has a global focus. We have gotten so much administrative support to see the program grow."

Students going on any Alt Break trip participate in a number of pre-trip trainings, preparing them to investigate social justice in the context of a foreign culture. Still, no amount of preparation can keep students from the shock of working in grassroots movements abroad.

For Sumka, witnessing that shock and the growth that follows it is one of the best parts of her job.

"Just to see the students from the moment they land in the airport and their whole world is turned upside down…they're seeing, smelling, and experiencing things that they've never seen before," she says. "By the end of the week, there is a transformation that's taken place. It is moving, meaningful, and powerful. My role is to make sure this happens in a positive way both for the students and the communities."

In the end, Sumka – one of the few full-time alternative break staff members in the nation – feels humbled and honored by the award from Break Away. She finds her true reward, though, in taking the global perspective she received as an adolescent and passing it on to AU students.

"The ones who keep in touch are doing really great things," she says. "They always come back to me and say, 'My alternative break trip impacted me so much in my college career and in my career now.' That's really gratifying and rewarding."

In that way, Sumka's time abroad in Kenya has been a gift not just for her but also for those students and communities who take part in alternative breaks with American University.