Student Life
Six Years of Presidential Honors for Service
By Patrick Bradley
April 5, 2012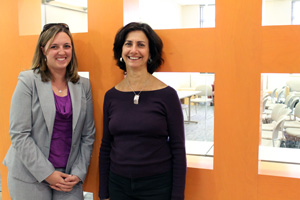 Community service has been a part of AU since the university's inception. It's written into AU's strategic plan, it motivates an entire staff and host of programs in the Center for Community Engagement & Service (CCE&S), and it draws scores of students who are passionate about making an impact at home and abroad.

For the sixth year in a row, this dedication to service has won recognition from the nation's highest office, as AU was once again named to the President's Higher Education Community Service Honor Roll. The list names colleges and universities across the country who have answered the president's call to service on a domestic level.

Meg Rego, CCE&S's coordinator for service learning, says this honor results from the university maintaining service as a core value and constantly striving to pursue that value in new and deeper ways.

"When we look at how the strategic plan says we're going to 'strengthen our culture of service and social responsibility' and that the university 'will be marked by rich opportunities for service and a vigorous commitment to the people of DC,' that is exactly what the award is honoring," she says. "American University is a place where students are committed to service and where students are carrying out that commitment both internationally and domestically, specifically in the work we're doing in DC."

In its application for the award, Rego and the Center's staff highlighted three central programs at AU – the Freshmen Service Experience, Community Service Coalition, and DC Reads.

CCE&S director Marcy Fink Campos sees AU's distinctive approach to service in each program. The Community Service Coalition stands out as a student-initiated, student-led organization that connects all service opportunities offered by student organizations, while the Freshmen Service Experience – or FSE – plays a critical role in developing a culture of service for incoming eagles.

"The fact that we set the foundation for service in the Freshmen Service Experience is unique," she says. "I don't know of other campuses that have a multi-day program where almost half of the class is involved. We set the stage for them saying, 'Your learning environment is much bigger than just the campus. DC is a great city to get engaged in, and you can play a role.'"

Campos believes that FSE acts as a sort of starting point from which students can explore service in the District and later return to sites. CCE&S sponsors several grant competitions during the year with its Eagle Endowment, a fund created by students to help launch service projects and encourage engagement with local issues.

Students can also participate through DC Reads, one of CCE&S's most popular and impactful programs.

"So much effort has gone into ensuring that the program is successful and that students are educated on what it is they're doing when they go into the community," Rego explains. "They have the tools to be good tutors when it comes to literacy and mathematics, and the support the university is giving the students in addressing issues of literacy in the District is exactly what the president's honor roll seeks to [recognize]."

Campos and Rego acknowledge the student body's spirit for service as a key reason AU has received recognition each year since the inception of the honor roll. The university creates a solid framework for students to engage in service, and students continually take up the university's call, connecting on a daily basis with the people of Washington DC. It's a partnered commitment that's hard not to recognize as special.

"One of the things we've been emphasizing in the past few years is it's not just about quantity, it's really about impact and having relationships with organizations that can look to us," Campos says. "In general, organizations that have seen AU students work say they want us to come back. They want to work with us because we do something solid."



To learn more about the award, click here.

To explore the Center for Community Engagement & Service and see what it has to offer, click here.

Follow CCE&S on Twitter: @AU_CCES.