On Campus
Summer Interns Welcome
By Patrick Bradley
August 9, 2012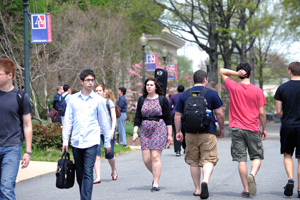 Tom Schad just reported on Washington, DC's Citi Open tennis tournament. The rising senior is a summer sports writing intern at The Washington Times, and he's thrilled about it.

"This is definitely what I want to do. It's been an incredible experience," he says. "I don't know how many people can say they have an internship in the field they want at a level like the one I'm at right now."

Schad is one of many students, both AU and non-AU students from around the world, who have stayed on campus through the summer to pursue exciting DC-area internships. In fact, the university currently has about 625 students from more than a dozen countries living in the residence halls this summer who are studying and/or engaged in internships.

Jeff Bloom is residential services coordinator for Conference & Residential Services in Housing and Dining Programs, the department that hosts interns and students over the summer. According to him, these summer interns enjoy posts in places including Capitol Hill, the National Institutes of Health, and numerous nonprofits in downtown Washington, DC – all just a short metro ride from campus.

"Students are coming here not just because we're American University but because of what our classroom has to offer," he says. "The classroom is not the Ward Building or the Kogod classroom; it is Washington, DC."

Senior economics and international studies major Francesca Cavalli is one AU student who's taken full advantage of the classroom off campus. In just three years, she's interned at both the State Department and the British Embassy, working on everything from international security to trade and development.

Having recently started a year-long internship with the Federal Reserve Board of Governors, she believes AU's location is perfect for securing valuable professional experience while earning a relevant degree.

"Everyone I talk to here says that, just being in DC, for any city block there are probably twenty different places you can intern. They're outstanding opportunities," she says. "It's really the heart of the action and so applicable to what we do."

Cavalli and Schad also work under Bloom for Conference & Residential Services as campus hosts, supporting the summer's visitors and conference groups. The 15 to 20-hour-per-week position offers them free housing, hourly pay, and the flexibility to do their internships.

For Schad, now in his second summer sports writing internship with The Times, it's an ideal situation.

"That was a big draw for me. I was a campus host last year, and I didn't have to worry about paying rent each month. Being a campus host, they also pay you hourly. So, that was enough money to pay for food, laundry, metro to the office, and everything else," he says. "It really allowed me to take an unpaid internship."

The two student interns came to their equally impressive positions by different means, but each utilized the AU community. Cavalli consulted the university Career Center and an AU alum in order to land her post, while Schad simply talked with his sports writing professor, Don Markus.

"The one connection that I formed with my sports writing professor led to the internship I've had for two summers now," he explains. "I don't think it's just Professor Markus that would do that for one of his students. A lot of professors I've had at AU would go out of their way to help their students get set up with professional opportunities in the city."

Even with the impressive experiences between Schad and Cavalli, each knows many other students with similar internship and professional practice to complement their studies.

Cavalli believes it's all just part of studying at an institution like AU.

"In your classroom, the people there (even if they're interns) represent fifty organizations. You can ask them directly what it's like at such and such place," she says. "You get a great variety of professional experiences, which I think makes AU unique."

Having recently been named number one in the nation for internships, these opportunities, along with the university's strong academics, are more than just features that make AU unique; they define the quality education that American University offers every student in fall, winter, spring, and even summer.