Student Life
Transfer(ing) Student Benefits
By Patrick Bradley
May 24, 2012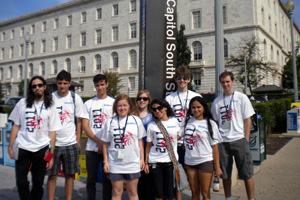 You Matter

It's good to be a transfer student coming to AU this fall.

The sizable annual group of between 300 and 400 incoming students will see new services and programs crafted specifically to help them transition to their new university home. From International Student & Scholar Services (ISSS) to New Student Programs (NSP) and the Center for Community Engagement & Service, the new efforts are a cross-campus embrace of this important student cohort.

NSP's assistant director Mike Metzger is a professional at reaching out and making students feel welcome. In collaboration with the School of Public Affairs' dean's office, NSP implemented the Transfer Success Series, an extended, six-week fall orientation that includes faculty and staff presenters to help transfer students settle in.

Metzger and NSP have also opened an online platform using Blackboard, where current students post helpful information and will answer questions from incoming transfers.

"We want to send the message that 'You matter to us,'" he says of the improvements. "That's why we're really trying to be responsive to student needs and make sure that we're offering them the best possible practices and services. We're always learning and growing in those areas."

New Opportunities

But NSP isn't the only Campus Life department focusing on transfers.

The Center for Community Engagement & Service (CCE&S) has unveiled its new Transfer Student Experience – a single-day event during which incoming transfers can work together with nonprofits throughout the Washington DC area.

Depending on whether transfer students attend July or August orientation, they can choose the single-day service experience or the several-day Welcome Week programs offered just before fall classes begin. Some of these programs explore DC from an academic or cultural angle, while others offer physical activities like hiking through the wilderness outside the city.

"I think these one-day opportunities are new and exciting ways for transfer students who previously did not have to the opportunity to become engaged. We're meeting their needs," says CCE&S's Meg Rego.

For international transfer students, ISSS has a new mentorship-based orientation set for this fall. Associate director for intercultural programs Kristina Thompson has seen a growing a number of international students transfer from US community colleges.

"The international transfer population is interesting because some are coming from US institutions. So, they're already in the US, but others are coming directly from overseas," she explains. "There's a real variety of needs in terms of, for some of them, this will be their first step in the US and the cultural adjustments that come with that. Others are already adapted culturally, but DC is a new city for them and AU a new university."

By pairing incoming transfers with current students of similar experience and background, Thompson and her department hope to ease the various transitions for this global group.

Language Shift

Sometimes a shift in attention first requires a shift in language. With that in mind, Metzger and the rest of the departments and schools/colleges involved in the collaboration are introducing some new vocabulary to their efforts – they'll be using the term "transferring student" from here on.

"Instead of having this identity as a transfer student [and thinking] you will always be a transfer student, it is a process that you go through and then you are a member of the institution just like everyone else," Metzger explains.

Rego agrees, backing the new wording wholeheartedly.

"They come, they are transferring, then they're a part of the AU community, and they're members and welcomed just like any of the first-year students that are here," she says.

The Campus Life team offering the new transferring student programs isn't the only group interested in improving these services and benefits. The team has worked closely with the Transfer Student Association and plan to liaise with AU's Student Government.

"It's a really positive step that [the] SG now has this position of transfer student coordinator," Thompson says. "There's also some commitment on their part to meet the needs of transfer students. There's a lot of energy around transfer students."

The focus on transferring students is a campus-wide one, and it's a collaboration necessary to support the well-rounded students that choose AU for their studies.

"The student who comes to AU is very different than students who go to other institutions," Metzger says. "They're looking for something different. They're very driven, very motivated. We need to be respectful and mindful of those needs when we're creating our services and programs."

No matter what they're called, these incoming wonks can look forward to finding a new, supportive environment in which to thrive, where the transition – though carefully and thoughtfully planned – will be easier than ever.