Student Life
Tyler Sadonis: A Heart for Service
By Patrick Bradley
October 20, 2011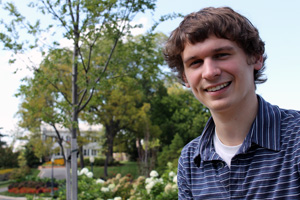 Letters to the Future

The blizzard unloaded enough snow on Syracuse to delay the second half of the area's high school Regents exam in English. State education officials ruled that schools would administer the entire test over again. One Facebook group and hundreds of appeal letters later, students were free to complete just the remaining second day of the exam.

A junior in high school at the time, this was Tyler Sadonis' first foray into politics. He created the letter writing campaign through social media outreach.

"I enjoyed seeing how you could put together a grassroots movement and something as small as sending a letter could affect change for the better and impact people all over the state," he says. "Coming to AU, I brought that experience with me."

Now 19 years old, the School of Public Affairs sophomore sees a path clearing through DC toward a career in politics, service, and social engagement – elements at the core of his university's mission.

Getting Out Votes

Sadonis – a Political Science major – wasted no time continuing his political career upon arriving to AU.

At the insistence of friends, he ran as a write-in candidate to represent AU students on the 3D Advisory Neighborhood Commission – a District panel that dictates neighborhood divisions and policies. He knocked on doors, inspired many to work with him, and accidentally broke a campaign finance law.

"It was quite a way to start off the first semester of my freshman year," Sadonis tells. "It was a learning curve, also testing to see if I wanted to do this for the rest of my life."

In the end, Sadonis didn't win the seat, but the hours invested were more than valuable. He gained insight into his career goals while revisiting experience as a high school intern for a mayoral campaign in his hometown of Syracuse. The time involved in both shifted his direction and priorities.

"I don't know if I want to be a candidate necessarily, but I've always been of the belief that we benefit as a society if we get more people involved," he says. "I still want to remain active in political causes, playing the role of making sure that anyone who wants to get involved can."

Remaining active is exactly what Sadonis has done, still attending Advisory Neighborhood Committee meetings with the District-wide student group DC Students Speak. He's also set his sights on what has become the defining focus of his college career – service.

Living to Serve

"It allows me to get out of the classroom, see things first hand and learn about issues I wouldn't have been aware of," Sadonis says of his love for service. "You can read about issues in a textbook and talk about them in class, but when you get out of the classroom and experience it first hand, it becomes much more meaningful."

Sadonis – also a TA in the School of Public Affairs Leadership Program – serves as the director of AU's Community Service Coalition, an organization that coordinated with 30 clubs and supported 87 events last year. From College Republican blood drives to arranging soldier care packages with AU Vets, the Coalition connects students, promotes engagement, and builds community around service events.

The Freshmen Service Experience (FSE) provided Sadonis' introduction to service at AU, sending him to work at an elementary school in Columbia Heights during his first days on campus. The event moved him enough to serve as one of five FSE coordinators this year, overseeing 600 freshmen, 100 upperclassmen leaders, and service projects at 50 nonprofits.

Of his decision to serve as a leader, he explains, "It seemed like a really great way to expand upon my knowledge of Washington DC and some of the social issues in the city and just be part of this twenty-plus year tradition of putting together the Freshmen Service Experience."

University-Backed    

From leading FSE to becoming director of the Community Service Coalition and running for the ANC seat, Sadonis' efforts at American have been a huge success in one form or another. He believes AU has helped him find direction in these different ventures.

"The university's been incredibly supportive," he says. "The sense of importance the school places on social action – actually being invested in an issue and learning about it – really shows through."

While looking forward to a career in voter rights work, Sadonis also looks back at how he got his start – inspiring his peers through a high school letter campaign. Seeing that inspiration and commitment in others fuels Sadonis. It's something he noticed from the moment he came to American.

"AU has a student body that is passionate about issues. They sincerely want to – at some point in their lives – make the world a better place. That may sound cheesy," he says, "but I have that feeling when I'm here, and I had that feeling when I visited as a prospective student."

Surrounded by a campus that shares his passion, Sadonis shows nothing but promise and heart for a future he started writing years ago.