On Campus
Welcome Jake Kelderman
By Adell Crowe
August 16, 2012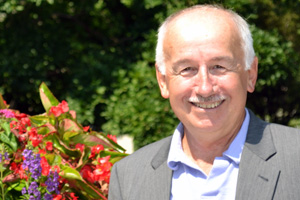 Monday (8/20) we welcome Jake Kelderman to the AU staff as part-time Business Manager at the Eagle. Jake has had a long career in journalism and is excited about working with the Eagle. Here's what he has to say about his business experience and the challenges ahead:
Q: Welcome to American. You are starting the week after retiring from a long career in journalism. Tell us about it.
I was fortunate to come into the business when journalism was seen as a critical watchdog for the public; the Vietnam/Watergate era and all the other 'gates" that followed. In my case, I spent much of my career covering the initial regulation of the automobile industry, safety, fuel economy, emissions, the first Chrysler bankruptcy, which at their core were really discussions and political battles over the proper role of government and who decides what direction society will take. Not unlike today, but things are much different now of course. Newspapers and nearly all media are struggling to make a dollar and respect for the professions isn't anything like it was. Still, I believe there is a critical role for professional journalism in society, which we need to do a better job of asserting and defending.

Q. After all that success you are willing to cap your career by taking on a strong student newspaper that is struggling financially, why?

If you believe, as I do, that there is a place for creative, inspired and thought provoking reporting that can stand out from the miasma of what passes for much of media today, then it's a pretty easy call. I've turned around a number of failing magazines and spent quite a few years consulting to newspapers around the country. It's always a challenge but experience tells me excellence is always rewarded.

Q. Obviously you love a challenge, what other interests do you have?

I wish I could get my handicap back to 2, paint like Van Gogh, sing like Van Morrison, dance like Fred Astaire and I am really impressed by people like Erno Rubik. Come on; how do you come up with something like that!

Q. Great, any last words for Eagle readers and your new colleagues?
To The Eagle staff I would say; Success in our business is all about good stories, well told and put together in an eye-catching package. It's also about excellence on the business side of the process. That's how we get and keep readers and advertisers.

To The Eagle readers I would say; be prepared to be informed and delighted.
 
Adell Crowe is assistant director for student media at AU's Student Activities department.