On Campus
Library Exhibit and Paintings Highlight the Potomac River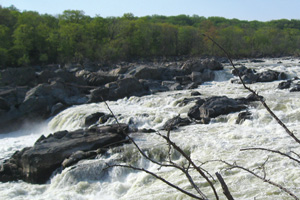 The Potomac River is a rich resource that provides drinking water to at least 3 million people in the Washington region and serves as an important source of beauty and recreation. Yet the health of its waters remains in jeopardy. The current library exhibit, Picturing the Potomac, provides insights into the role this mighty river has played in our history and life and looks at some of the challenges we face as we seek to maintain its vitality.
Included in the exhibit are images that recount the Algonquian peoples relationship to the river, as well as that of other early Americans, including John Smith and George Washington. Accounts of a doomed slave escape on the ship Pearl and images of Civil War generals crossing the Potomac recall a darker time in our history. On a lighter note, the exhibit shows how we use the river for boating, fishing and other recreation. Selected images feature some of the unique flora that can be found in the Potomac River Gorge, which is considered to be one of the most biologically diverse habitats of the national park system. Reports and articles shed light on some of the threats facing the river and its environs including invasive species of fish and plants and contaminants in the water system. AU's connections to the river are reflected in rowing team paraphernalia and the dozen dissertations and theses that AU students have written about the river.
Accompanying the display is an exhibition of 23 paintings by artists from the Potomac River School on the main floor and in the Mud Box that capture the majesty of the river in oil and watercolor.
The exhibit runs through the first week of September.