Arts
Feminist Art at the Forefront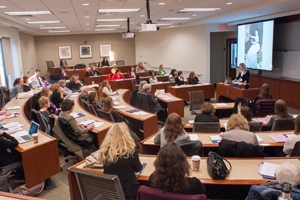 AU's Third Annual Feminist Art History Conference has grown into an event spanning three days and more than a dozen panels.
The conference, held November 9–11, featured keynote speaker Whitney Chadwick, professor emerita of art history at San Francisco State University and author of Women, Art, and Society.
Noting the conference's growth, Peter Starr, dean of AU's College of Arts and Sciences, said, "Not only do you [the conference's attendees] come from across the United States; many of you come from across the globe. This is extraordinary. We have half again as many papers this year as the first year. Three years in, the Feminist Art History conference is only getting better and better and better."
Sixty papers presented at 14 different panels covered a wide array of topics as represented by a few panel titles: "Constructing and Deconstructing Gender in the 19th Century" (modern European), "Global/Local Identities" (contemporary), "Women's Agency: Convent and Palace" (premodern), "Identity, Resistance, Reinterpretation" (American)," and "Sexual Politics and the Politics of Sexuality" (modern European).
The panels featured scholars from as far away as China, Portugal, Israel, Germany, Serbia, the Czech Republic, England, and Canada as well a number of independent and university scholars from institutions including Rutgers, the University of Virginia, the University of Alabama–Birmingham, the University of Pennsylvania, Carnegie Mellon, and American University.
In her keynote address, "Guess Who's Coming to Dinner? Feminism, Art History and the Story of a Book," Chadwick traced the history of her ground-breaking text Women, Art, and Society from its genesis to its current (and for Chadwick at least) last edition. The book's history in some ways mirrors the growth of feminism and the awareness of the importance of feminist art.
Chadwick said she realized she had never spoken about the book, which is a standard text in many feminist art history classes. She recalled a not-so-distant time when an academic career in feminist art meant overcoming resistance inside and outside the academy.
In 1978, when she settled permanently in California, her "politics had been formed within the context of 1960s radicalism and the civil rights anti-war movement rather than an academic context," she said. With few exceptions, women artists played "almost no role" in her educational experience.
Speaking of the widely used text she would come to write, Chadwick said that she wanted to produce a book that a wide range of students would find useful, an aim she surely achieved. She decided to create a survey text modeled after the most conservative example of that form she knew, H. W. Janson's History of Art.
"This is the man after all who had famously declared to [artist and educator] Eleanor Dickinson early in the history of feminism and art that there were no women artists worthy of inclusion in a one-volume history of Western art," she said.
The goal was to make the book attractive as a supplementary text for art classes, making it a sort of "stealth weapon."
Chadwick concluded with an observation about the conferees' shared discipline.
"I cannot predict where feminist art history will go, but I want to point to two areas that I think are extremely important," she said. "One is that we all need to pay more attention, not just to acknowledging new media's exploding information bases or bemoaning their effects. But in order to do that . . . in our art history classes, in our writing, in our scholarship, in our teaching [we need to look] across issues of ideology and public subjectivity from a new perspective. And that perspective, I feel, needs to be truly international . . . I believe that many of the most exciting developments in feminist thinking . . . are coming from outside the United States, which now sadly lags behind much of the world in education, innovation, and attention to social context."
Most of the AU conference events were held on campus, but the final panel, "Making History: Women in 21st Century Museums," was at the National Museum of Women in the Arts, in Washington, which partnered with AU by planning the panel.
Susan Fisher Sterling, NMWA's director, chaired the panel, which focused on feminism in the museum field. Anne Collins Goodyear, president of the College Art Association; Michelle Joan Wilkinson, director of collections and exhibitions at the Reginald F. Lewis Museum of Maryland African American History and Culture; and Jack Rasmussen, director and curator of the American University Museum, were also on the panel.
AU's planning committee for the event included Kathe Albrecht, manager of visual resources in the College's Department of Art, and students on her staff; art historians Helen Langa, Juliet Bellow, Namiko Kunimoto, and Andrea Pearson; as well as emerita faculty members Norma Broude and Mary Garrard. The department's Joanne Allen also helped.
AU faculty members chaired several of the sessions and presented papers, and a number of AU alums participated in the conference as well, among them Layla Seale, Ginny Treanor, Asma Naeem, Bryna Campbell, and Stephanie Thornton-Grant.