Student Life
Cindy Zavala Is Everywhere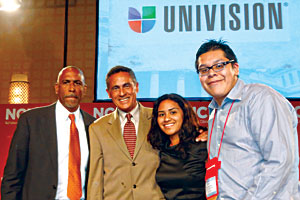 Cindy Zavala's fingerprints are all over campus.
In just one short year at American University, the energetic 19-year-old served as a Freshmen Service Experience coordinator, worked in the GLBTA resource center, traveled to Africa on alternative break, and presented a workshop at the National Council of La Raza Conference. The group is the largest Latino civil rights and advocacy organization in the United States.
Sophomore slump? Forget it. Zavala was elected codirector of the Latino and American Student Organization this year.
"From our first semester together, I knew she had the potential for great things," said Adam Tamashasky, writing instructor in the Department of Literature. "She's smart, caring, and curious, and importantly, unsettled. I mean unsettled in the best, most complimentary sense. She won't fall into ruts of any kind—intellectual, professional, or personal. Her introspection forces her to constantly reevaluate all she does, and though that can make for a stressful life at times, in the long run it pays off in an exciting, purpose-driven life."
The daughter of El Salvadorians, Zavala grew up in Alexandria, Virginia. She always has considered herself a Salvadorian-American, and spent time in the Central American country as part of the Arlington Sister City Association program she worked for while in high school.
It was the sister city program — Arlington County has four, including San Miguel, El Salvador — that piqued Zavala's interest in both international relations and community service, which drew her to AU.
"Being here at AU, the idea of being a world citizen is so powerful," she said.
Zavala was part of an AU alternative break group that traveled to Kenya in March. She spent time visiting with children at an orphanage, and the kids made such an impression on her that she's raising money and collecting donations to "sponsor" five of them this year.
At the National Council of La Raza Conference in Washington in July, Zavala presented a workshop on how Latino students can get their parents involved in the college application process.
"There's a to-do list for students, but also for their parents," she said. "In the Latino community there's a language barrier, there's a culture barrier, and economic barriers."
Students, principals, and teachers were in the audience of the conference, which attracts big-name personalities.
"There were so many big speakers like President Obama and Hollywood stars like Eva Longoria, and all of them kept talking about their parents and how important parental involvement is," she said. "It just connected with our workshop."
Much as Zavala has connected with AU.
"People probably respond well to Cindy because of her sincerity," Tamashasky said. "She's a leader not because she wants a resume gold star, but because she wants to do important, good things in this world."