In the Community
D.C. Handgun Ban Sparks Discussion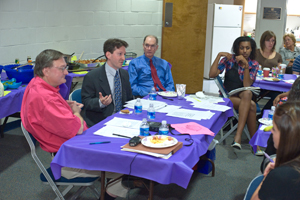 Just hours after the House voted to ease gun restrictions in the District of Columbia, advocates on both sides of the controversial issue gathered at the Kay Spiritual Life Center Wednesday to debate whether firearms encourage or deter crime.
Armed with statistics and anecdotes, George Lyon, one of the six original plaintiffs challenging the D.C. handgun ban, and Daniel Vice of the Brady Center to Prevent Gun Violence spoke as part of the Table Talk Lunch Series.
Arguing that District residents have a 1.5 percent chance of becoming the victim of a violent crime each year—three times the national average—Lyon contended that, in the right hands, "firearms are a tool that can save lives."
The founder of Capital Gun Owners, which formed after the Supreme Court struck down the city's 32-year handgun ban in June, Lyon advocates the "right to defend life and home." He supports background checks, training, and education in order to promote responsible gun ownership. In the wake of the recent tragedies at Virginia Tech and Northern Illinois University, he also supports the right of professors to carry concealed weapons in the classroom.
"Guns are a tool. They can be used for good, and they can be used for evil," said Lyon, a practicing attorney. "The fact is, a firearm in the hand of a citizen facing a violent attack can save that citizen."
Arguing the other side of the issue, Vice had some statistics of his own.
Last year, there were 75 gun homicides in England; in Japan, there were only 56. In the United States, however, there were more than 30,000 gun-related deaths last year.
"That means, in a typical weekend, more people are killed by guns in America than in other industrialized nations, combined," said Vice, an AU alumnus. "Would you really feel safer knowing everyone around you is carrying a gun?"
The Brady Center advocates stricter background checks and "common sense gun laws" that will keep weapons out of public spaces, including schools and churches, and out of the hands of children and criminals. The group also seeks a ban on military-style weapons.
Vice, who's represented victims of gun violence, said it's a gruesome business.
"No parent should ever have to see what a bullet does to a little boy's head," said Vice. "Nothing in law school prepared me for that."
Chief Cathy Lanier of the D.C. Metropolitan Police was also slated to speak at Wednesday's event, but cancelled on Monday. City officials have been instructed not to comment on the issue while policies are being adapted in response to the recent Supreme Court decision.