Professional News
Kathy Schwartz Helps Students Excel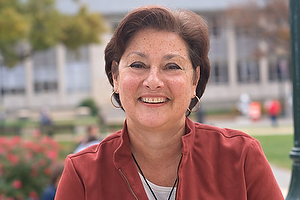 When Kathy Schwartz arrived at AU as a part-time counselor, only five students were known to have a learning disability. It was the early 1980s, and the prevalence of learning disabilities, such as dyslexia and attention deficit disorder (ADD), was only starting to be recognized in the nation's schools.
Now Schwartz is in her tenth year as director of the Academic Support Center, which works with students who seek support for a variety of reasons: international students grappling with English as a second language, student-athletes juggling training and course work, students contending with traditionally difficult courses like statistics.
And, indeed, the population of students with learning disabilities has grown enormously, a result of years of improved diagnosis and support. About 300 students, a third of the clients the center serves, arrive at AU with a documented learning disability.
They're top achievers, or they wouldn't have been admitted. But college is a new world, and it's the job of Schwartz and her staff to ensure that students who need accommodations or guidance in navigating its challenges will be able to get it.
She's proud that AU has committed the resources to making that happen.
"We have a much larger staff than most schools—not only schools our size, but even bigger schools," says Schwartz. "Students who want to be seen weekly can do that here. At so many schools, there aren't the counselors to do that. But we have nine master's level people besides me, and that's extraordinary."
She oversees staff with specialties that range from English as a second language to assistive technology. One program that has been successful under her leadership has been student-led tutoring for courses that are both required for certain majors and highly challenging, such as accounting, statistics, and organic chemistry. Students who have excelled in the courses receive training and support to run group sessions to help other students succeed. Since the program was implemented, low grades and withdrawals have dramatically decreased.
Schwartz also was key to a three-year effort to increase study abroad opportunities for students with disabilities, whose desire to study abroad can be stymied by lack of information about accommodations, medication, and other needs at overseas sites.
The project won AU several awards from NASPA, Student Affairs Administrators in Higher Education: a gold excellence award, overall bronze medal, and international best practice award. The awards were granted for collaborative work by the Academic Support Center, Disability Support Services, and AU Abroad.
Most important, it achieved the goal that is central to Schwartz's life every day: helping studets take the fullest advantage of life at AU.