On Campus
PPL Scholars Visit March on Washington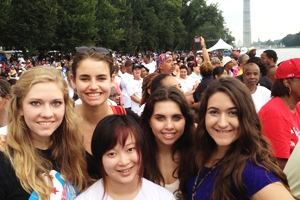 On August 28, 2013, SPA's Politics, Policy and Law Scholars had a front row seat to history. The twenty new PPL Scholars traveled down to the national Mall to participate in the 50th Anniversary of the March on Washington.
"Being a part of the 50th Anniversary of the March on Washington, standing within a football field's distance of President Obama, was a once in a lifetime experience," said Clare Verbeten. "While walking through the crowd I saw an old black woman with a sign reading, 'I was here in 1963.' It reminded me of how far our country has come and how fortunate I am as a young black woman to be attending college, an opportunity not likely available to me 50 years ago." 
"I spent the night with nine other Politics, Policy, & Law students in order to get front row spots for the 50th Anniversary March on Washington celebrations," wrote Kyle Anderson. "The event was entertaining, as it included prominent figures such as Forest Whitaker, Oprah Winfrey, and Jamie Foxx. Witnessing Presidents Jimmy Carter, Bill Clinton, and Barack Obama speak gave me inspiration to make an immediate impact on my generation. I will continue to remember the following words of encouragement from Forest Whitaker's speech for the rest of my life: 'Every step you take around an unknown corner marks your bravery.'"