Education
DCPS Chancellor Rhee Stresses 'Sense of Urgency'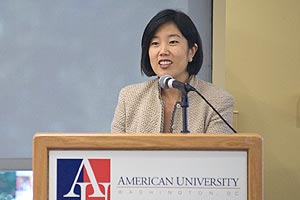 In the District of Columbia, only 9 percent of ninth graders will graduate from college within five years after entering. And among the city's eighth graders, a mere 8 percent are reading at grade level.
On Oct. 7, D.C. Public Schools (DCPS) chancellor Michelle Rhee encouraged 100 educators and activists gathered at American University for the first annual College to Kids Summit to "work with a sense of urgency" to help Washington students to dream, achieve, and excel in the classroom—and beyond.
"We have such a huge job ahead of us. Often times, [DCPS] doesn't make your job easy, but I implore you to hang in there with us, because what's in the balance is too valuable to give up on," she said. DCPS, which serves 47,000 students across 123 schools, is the only school district in the country on "high-risk" status with the Department of Education.
"I believe that our children–despite the challenges that they go through every single day—hope that something will improve," Rhee said. "It's the responsibility of everyone in this room not to disappoint them."
Rhee also encouraged college students to work as tutors and mentors with local nonprofits like D.C. Reads. Last year, 141 AU students volunteered several hours a week at seven sites across the city for D.C. Reads.

"So many kids—especially at the secondary level—are craving a positive adult relationship in their lives," she said. "You would be surprised to know how much of an impact one person can have in the life of a child."
Hosted by AU's Community Service Center, the conference was sponsored by Heads Up, which runs after-school and summer programs for Washington youth. The daylong event featured more than 30 panelists, who discussed four factors that are associated with college attendance and success: expectations, information and awareness, a culture of support, and perceptions of affordability.
"One of the things that pains me the most is looking at the faces of young people and knowing that, without yet owning a home, they already have a mortgage," said Jonathan Gueverra, CEO of the new Community College of the District of Columbia (CCDC). He stressed the importance of affordability, especially for low-income Washington students. Annual tuition at CCDC, which welcomed its first class this fall, is $3,000.

But "it's about more than academics," Gueverra explained. Offering health care services, counseling, and child care are also key to helping D.C. students—many of whom are the first in their family to go to college—excel. "These wraparound services are critical to helping them succeed and graduate," he said.

Carol Schneider, president of the Association of American Colleges and Universities and a Heads Up board member, hoped those who attended the conference left AU with "actionable steps . . . to ensure student success across the District of Columbia."
"It used to be that college was one of the pathways to success in society," she said. "Today, college is a prerequisite for success in society."