Alumni
Recent Grad Enjoying New Life in Colombia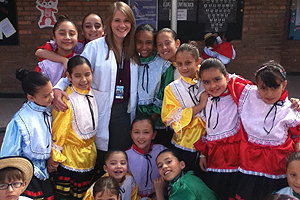 While most of the Class of 2012 spent the last six months enjoying their final semester at American University, preparing for graduation, and searching for jobs, Tasha Miley took an entirely different route.
Miley, BSBA '12, chose to graduate a semester early and has been volunteering as a full-time English teacher in Bogotá, Colombia since January. Calling it "the most challenging and rewarding experience of her life," Miley says she can't imagine herself doing anything else.
She is serving this position through WorldTeach, a not-for-profit that hires volunteer teachers to meet local needs and promote responsible global citizenship in developing countries. She is currently teaching English as a second language to 2nd, 3rd, and 4th graders at a school called "Colegio El Minuto de Dios" in a neighborhood in western Bogotá.
Miley will remain teaching in Colombia for the duration of her school's academic year (which runs through December). She says there is a strong possibility that she will continue the job for at least another year after that.
"Not only am I certain that I am helping my students in ways many Colombian teachers cannot, these past six months have been a time for me to reflect on what I want to get out of life," she said. "[I've discovered] what makes me feel fulfilled and it is making me appreciate the little things."
Part of the reason Miley moved to Colombia is that she left AU still undecided about what she wanted to do in the long-term. Initially an SIS student and then a CAS student, Miley ultimately settled on Kogod, which she called a "pillar of stability" during her undergraduate experience.
One of Miley's favorite experiences at Kogod was designing her own specialization. "I was able to choose courses that interested me while still learning the key skills required of every business student," she said. Her favorite course was "Learning from Global Enterprise Failure," taught by "the one and only" Bob Sicina.
Miley—a native of Glenwood, New Jersey—also worked as a Resident Assistant in Anderson Hall for two years, and was a member of Alpha Phi Omega community service fraternity as well as Delta Gamma social fraternity.
Moving forward, Miley says she may pursue a master's in education or apply to the New York City Teaching Fellows—a program dedicated to recruiting teachers that will help raise the quality of education in NYC—upon her return to the U.S.; that is, if she can force herself to leave the beautiful country she is living in.
She says that while she's prevailed at figuring out her next immediate steps in life, the long-term plan is not as clear. Nevertheless, she hopes that each of the incremental steps will "bring me where I am meant to go."
You can follow Tasha's journey by reading her blog.