Achievements
College of Arts and Sciences 2013 Commencement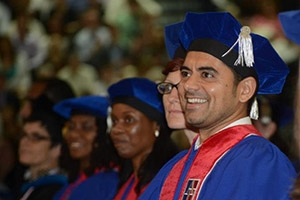 Congratulations Class of 2013!
The 2013 College of Arts and Sciences commencement ceremony took place on May 11 at 4:30 p.m. View photos of the ceremony.
Speeches
Renowned medical anthropologist and physician Paul Farmer spoke to graduates of the College of Arts and Sciences and received an honorary doctor of science degree. Known for his work on health, human rights, and the consequences of social inequality, Farmer is chair of the Department of Global Health and Social Medicine at Harvard Medical School, and also serves as U.N. Special Adviser to the Secretary-General on Community-based Medicine and Lessons from Haiti. "Your paths will lead to unexpected engagements," Farmer said. "The connections you made here will last a lifetime." Watch video.

Dean Peter Starr speech honored the Class of 2013. "Your work has made a difference, in DC and around the world." Watch video.


Student Mariam Sameh Aziz also spoke, telling graduates, "Let us not forget our own voices and that they matter. In this age of globalization, do not become lost in the sea of people." A native of Egypt, Mariam completed her baccalaureate degree this past December, with a double major in economics and women's, gender and sexuality studies. During her time at AU, she spent six months in Ghana working with abandoned children; helped to organize an Egyptian diaspora group in support of the Arab Spring; and participated in an alternative break program in Haiti studying development efforts after the 2010 earthquake. Watch video.

Awards
Andrey Verendeev received the University Student Award for Outstanding Scholar at the Doctoral Level.
Andrew Paul Merluzzi received the University Student Award for Outstanding Scholar at the Undergraduate Level.

Carley Rose DeFranco received the Evelyn Swarthout Hayes Award.
Mohamed Nazran Baba received the Carlton Savage Award.

Stephen A. Bronskill, who also graduated from the School of Public Affairs, was recognized as the winner of the Stafford H. Cassell Award and the President's Award. The President's Award is the highest honor awarded at commencement. It is given to an undergraduate senior who has displayed a longstanding commitment to building community and promoting AU's ideals of academic achievement, integrity, selflessness, leadership, and service.