In the Community
Scholars Examine Cuban Missile Crisis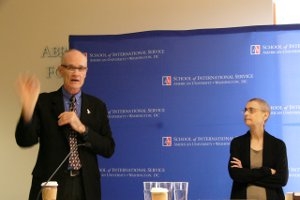 SIS commemorated the 50th anniversary of the Cuban Missile Crisis with a series of lectures, book talks and presentations the week of Oct. 15.

"We want to create a time machine today," said Janet Lang, research professor at the Balsillie School of International Affairs at the University of Waterloo, who presented "The Armageddon Letters" with James Blight, Centre for International Governance Innovation chair in foreign policy development at the Balsillie School of International Affairs, on Oct. 16. The scholars included video and real-time blogs, written by fictional John F. Kennedy, Nikita Khrushchev and Fidel Castro in their multi-media project.

"One of our tasks is to engage your gut, your heart, your soul," Lang said. "You have to get a sense of what it was like when you didn't know what was going to happen."

The value of studying the Cuban Missile Crisis cannot be underestimated, said Professor Robert Pastor.

"No single event brought the world closer to a nuclear holocaust than the confrontation in October 1962 between the U.S. and the Soviet Union after the Soviets sent nuclear weapons to Cuba. Few incidents have been studied more intensely than that," Pastor said. "What we didn't know at the time turns out to be much more important than what we knew. And we only began learning what actually happened 30 years later, at a conference in Havana in 1992 when Fidel Castro, the Soviet Ambassador to Cuba and the Soviet military leader in Cuba at the time of the crisis, told us such extraordinary secrets that Robert McNamara, who was there, was flabbergasted. I was also there and, indeed, had spoken to Fidel Castro in 1980 about some of what he disclosed. The revelations should compel all students of international politics to return to the case study and learn both old and new lessons for the 21st century."

"This is a way to get excited about history," said Lang.