Arts and Culture
"Hungary" for Arts and Culture? Feast on New Art Exhibitions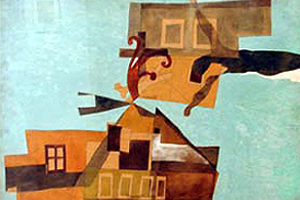 Two new spring exhibitions at the American University Museum showcase Hungarian art.  One focuses on modern painter Lajos Vajda, while the other presents videos created by young artists.  

Both exhibitions, which close Sunday, April 19, are part of Extremely Hungary, a yearlong festival showcasing contemporary Hungarian visual, performing, and literary arts in New York and Washington, D.C.

Lajos Vajda is the first comprehensive survey in the United States of the work of Lajos Vajda, regarded a master of twentieth-century art in Hungary. His works influenced that of the Budapest-based European School (1945–48), as well as subsequent generations of Hungarian and Central European artists. The exhibition presents collages, paintings, and graphic works from Vajda's Parisian photomontages to his late charcoal drawings, culled from mainly European private and public collections.

Influenced by a variety of artistic styles, Vajda studied at the Budapest Academy of Fine Arts before spending time in surrealist circles in Paris. After his return to Hungary in 1934, he lived in Budapest and spent his summers in Szentendre, a town on the banks of the Danube. There, Vajda studied Jewish folk art and icons of the village's churches and collected the ornamental motifs of local houses and alleyways. His work unites local and universal, folklore and avant-garde, architecture, and visual art.  Vajda died in a Jewish forced labor camp in the fall of 1941 at the age of 33.

Another Time—Another Place: Contemporary Hungarian Video Artists  is a selection of videos created by young contemporary Hungarian artists. The exhibition explores shifts in time and space, mostly in the context of the videos running in side-by-side monitors on the same wall. The videos, which rely heavily on the visual experiences of everyday life, reveal the artists' strategies while shedding light on their critical, receptive, or analytical attitudes toward video-as-art.

The museum is open from 11 a.m. to 4 p.m., Tuesday through Sunday. Admission is free.