Science
AU at the Science and Engineering Expo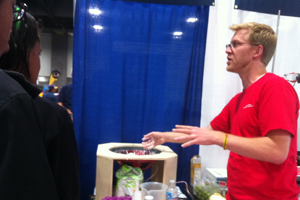 American University science departments collaborated to present the Science in the Kitchen exhibit at the USA Science and Engineering Expo. Held April 27 – 29 at the Washington, DC Convention Center, the expo featured more than 3,000 exhibits and 150 stage shows discussing various aspects of science and engineering.
"It was incredibly exciting to see so many individuals learning about science at our exhibit," says premedical programs director Lynne Arneson. At least 1,500 expo attendees visited the Science in the Kitchen exhibit. The AU tables were always crowded with a constant stream of visitors. Visitors of all ages came to the booth and were impressed with what they saw. AU staff and volunteers received numerous positive comments from attendees, including "this is my favorite booth" and "I can't wait to do science here."
Biology, physics, and public health faculty planned activities for the expo. Twenty-eight undergraduate students and 6 students from the Mesa College Prep Program at Johns Hopkins APL volunteered at the AU exhibit during the weekend. Many exhibit visitors remarked about how pleased they were that AU students were willing to share their time getting kids excited about science.
The Department of Physics demonstrated viscosity of fluids, including water, honey, and molasses. They also taught attendees about non-Newtonian fluids, including sheer-thinning fluids (ketchup and paint) and sheer-thickening fluids (oobleck, which is a mixture of 2 parts cornstarch and 1 part water). Student volunteers demonstrated the application of force to an oobleck by speakers and by hand (see video). Exhibit visitors were shown the production of plasma, another phase of matter, by using grapes in a microwave (don't try this at home).
The Department of Biology provided materials and expertise to help expo attendees isolate DNA from common food items, including bananas, apples, strawberries, and broccoli. Visitors were shown how to isolate their own DNA from their cheek cells. A negative control, marshmallow fluff, was provided for especially inquisitive students.
The Public Health Program demonstrated how bacteria can contaminate well-used cutting boards using a UV-sensitive powder. Student volunteers also engaged attendees in discussions of serving size and the effect of plate size on the amount of food eaten.
The expo provided a way to showcase the sciences at AU to students, the public, and other organizations and universities that participated. "The annual event is a way to show that AU is serious about science and research," stated Arneson. "Science is a vital component to the university and the faculty are pleased to have an opportunity to demonstrate this to the general public and also possible future students."