On Campus
Speak Out, Don't Freak Out Offers Solutions to "Fiscal Cliff"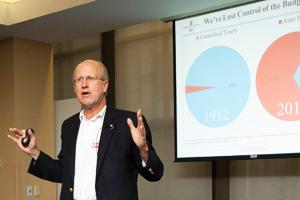 David M. Walker, former U.S. Comptroller General, led a discussion on campus about the nation's deficit at the end of a nationwide bus tour aiming to help voters understand that the U.S. could face a fiscal cliff in January 2013.
The tour is hosted by the Comeback America Initiative (CAI) led by Walker. CAI has also developed a U.S. Financial Burden Barometer (Burden Barometer) to supplement the "National Debt Clock." The Burden Barometer is a far more accurate measure of our financial situation, since it includes both total liabilities and unfunded promises (e.g., Social Security and Medicare).
"We are living in a bubble right now, and we need to make sure that bubble does not burst," Walker described during his talk.
Watch video of the event