International
Heartbeat: Amplifying Israeli and Palestinian Voices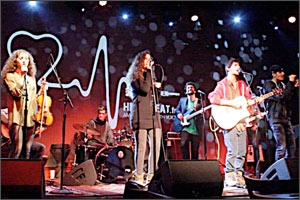 Heartbeat kicks off its 2013 world tour with a concert at American University, November 6, 2013, from 6:30-8:00 p.m. in the School of International Service Building Atrium. The performance will feature Jewish Israeli and Palestinian musicians aged 17-21 performing a unique hip-hop blend, interweaving Eastern and Western music styles to amplify their message of cooperation, equality, and respect.
Heartbeat is a project uniting musicians, educators and students to build mutual understanding and transform conflict through the power of music. It was founded in 2007 with a Fulbright-mtvU Fellowship by SIS Social Enterprise Masters student Aaron Shneyer. The project's goal is to empower Israeli and Palestinian musicians by creating opportunities and spaces for musicians from both sides to hear each other and work together to build trust between their communities.
Besides an uplifting performance of Heartbeat youth musicians' original music, the AU event will feature Heartbeat members sharing their experiences of growing up amidst the Israeli-Palestinian conflict. The evening will highlight their creative effort to build a better future in the region and will offer a unique window into the lives of these courageous young artists and the social enterprise which brings them together.
In a region filled with turmoil and uncertainty, "The status quo is separation, hatred and violence. And those three things go hand in hand. The only way to overcome the injustice, violence, and the hatred is to overcome the separation," says Shneyer. The separation to which Shneyer refers is the physical isolation of each population from the other. This has created psychological isolation which has led to mistrust and demonization of the other in both populations, effects cited by many experts as psychological barriers that are impairing efforts at achieving peace between the two populations.
While based in Jerusalem, the ensemble has performed across Israel, the Palestinian Territories, the United States and Germany. In his Huffington Post article in February 2013, Osseily Hanna notes that "Heartbeat was born to not only teach young musicians how to make music and perform, but to coexist respectfully among one another." By bringing youth together from both sides of the conflict to create a unified voice for peace through music collaboration, Shneyer's project is an important new model for person-to-person diplomacy reinvigorating the peace movements in Israel and the Palestinian Territories.
The American University concert is co-sponsored by the Center for Israel Studies, School of International Service, International Peace and Conflict Resolution, Social Enterprise Program, and several student groups, including Creative Peacebuilding Initiatives, AU Peace Corps, Arab Students Association, AU Students for Israel, and Social Enterprise Association. After its American University debut, the group will be performing at the Department of State, Georgetown University, and other sites in D.C., followed by stops in New York and Baltimore.
For more information about HEARTBEAT, see http://www.heartbeat.fm/.
To RSVP for the concert, please go to Eventbrite.