In the Community
Fixing Up A Few Cool Hardware Stores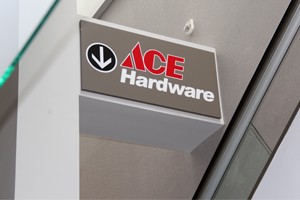 A team of second-year MBA students in Associate Professor Parthiban David's senior strategy capstone course took on a real-world challenge this semester as they consulted for the local ACE Hardware co-op, A Few Cool Hardware Stores.
The student group was one of nine applying what they have learned in Kogod to real business problems in Washington, D.C.-area organizations. The teams worked closely with their chosen businesses to identify needs, give recommendations, and develop strategic plans.
A Few Cool Hardware Stores is an independently owned group of seven retailers receiving support and discounted product pricing under the ACE Hardware co-operative model. 
Gina Schaefer, a principal owner along with her husband, Marc Friedman, was the first to volunteer for David's course.
"Anytime you can get a fresh set of eyes looking at the challenges you face everyday for free, you jump at that opportunity," said Schaefer, who has opened seven new stores in D.C. and Maryland over a period of nine years. "It's nice to have enthusiastic students whose only focus is your business."
The group met with Schaefer in September to get an idea of what the hardware retail business is like, and what her specific needs were. From there, they hit the ground running, meeting at least once per week as a group and spending additional time in pairs working on different segments of the project.
Pounding the Pavement

Deciding to focus specifically on the underachieving 5th St. location, they did some research and found an opportunity to improve exposure in the neighborhood by targeting recent homebuyers and apartment dwellers.
"I went into the residential areas and noticed there was a lot of activity—a lot of for sale signs and things like that," said Josh Werman, the team–appointed group leader. 
"I saw each one of those new residents as a potential customer for the hardware store, because of the maintenance involved in moving into a new place."
The team created a marketing strategy around this idea and included it in their overall strategic plan for the store, which they presented to the owners, David, and classmates at the end of the semester.
"The highlights [of the presentation] came from a couple of recommendations," David said. "One was for the realtors. When people move into their house, the realtors give them a packet, and the packet would include something from ACE hardware, a flyer or a little gift, which will have their phone number and their location on it."
The idea is that these new homeowners and renters will not only shop at ACE for their needs during the move, but also when any other needs arise in the future.
"They did an awesome job," David said. "Gina is very pleased with what she learned and is going to give careful thought to what she can change."
Experiential Learning
Each member of the group agreed that the experience they gained was invaluable. For Ogochukwu Onubogu, a former real estate broker in his home country of Nigeria, this project was a lesson in client relations.
"I realized that not everyone you work with is going to have an MBA," he said. "You need to not only find ways to improve their business, but also deliver your recommendations effectively and sensitively to the client, because this is their livelihood."
Jean-Yves Mutanda, a recent graduate from the Washington College of Law, said the business challenges they encountered were exciting, and prompted career reflection on his part. 
"For me, this course was an inspiration," he said. "I've never really had any clear-cut aspirations before, and now I know that I want to be a business owner, and not work for anyone else."

Hilda Mwangi said the class was not only satisfyingly practical, but also personal. 
"My father is a small business owner and I take a lot for this stuff that I've done in the MBA course back to him," she said. "Actually, I was pushing for him to put his business up for a future capstone project."

And, "Why not?" she thinks; it's free labor from some bright business minds.