International
Looking Beyond Table Mountain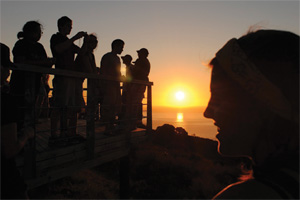 Twenty years after the bars of apartheid were smashed open in South Africa, 5.7 million of the country's citizens remain prisoners of another kind. That's the number of its people who are HIV-positive.
"Everyone in South Africa is infected or affected by HIV/AIDS," says College of Arts and Sciences sociologist Bette Dickerson, faculty sponsor of a two-week winter Alternative Break trip there.
Dickerson and 11 students visited organizations large and small devoted to the plight of the country's HIV-positive and at-risk populations.
It was an eye-opening experience. As Shannon Rice, SOC/BA '09, a first-year graduate student studying political communication, notes, "The contrast between the beauty of Africa and the poverty in the townships was intense. It's sad that tourists to Cape Town will probably never see life inside the townships because it's just as compelling as the view from atop Table Mountain."
"My most vivid memory was hearing the story of one woman who had lost her childhood and the ability to dream because she had to take care of her older sister who was dying from AIDS," says Sarah McHaney '12 of Crieff, Scotland, who was a student co-leader of the trip. "I think it [affected] me so much because in many ways the whole continent has lost its childhood and the ability to dream because of all the wars, poverty, famine, and disease."
But for Mary Smith, a premedical postbaccalaureate student, the value of the trip was more basic. "Up to that point, HIV/AIDS in sub-Saharan Africa was a PowerPoint in a lecture hall or text in a book for me," Smith says.
It's a bleak slideshow: South Africa is home to the most HIV-infected adults and children in the world and has about 1.4 million orphans due to AIDS. In 2009 alone, an estimated 310,000 South Africans died of the disease.
Just as bleak were the disastrous results of policies instituted by former president Thabo Mbeki. Mbeki, who succeeded Nelson Mandela and was forced to resign in 2008, embraced the fringe scientific view that a virus does not cause AIDS. Thus South Africa—a country where 900 people were dying every day from AIDS—came to reject the use of antiretroviral treatment. Harvard medical researchers estimate this policy caused the premature deaths of as many as 365,000 people.
But those days are gone. The day after Mbeki's resignation, his successor sacked the country's health minister, who had suggested garlic and lemon juice as AIDS treatments. South Africa has embarked on an aggressive public health assault to battle the crisis, helped in part by more than $2 billion in support for prevention, treatment, and care programs from fiscal 2004 to 2009 through PEPFAR, the U.S. President's Emergency Plan for AIDS relief, an initiative of the Bush administration.
"In some ways, South Africa is doing a better job of tackling this HIV/AIDS epidemic [than the United States] because everyone is part of this social movement to end this disease," says freshman Tahmina Ahmed. "This trip made me realize how much the U.S. can actually learn from South Africa.
"Everywhere you go you're bombarded with posters and radio spots and TV spots and soap opera story lines," says Dickerson. "And condoms are everywhere, in public and private spaces." The students also pitched in to help the organizations they visited, participating in service projects and meeting with organizations to learn different perspectives on the epidemic, notes Taylor Dempsey '12, a student co-leader of the trip.
Following the latest Alternative Break trip to South Africa, Dickerson spent an additional two weeks in the country to lay the groundwork for an eight-week summer community-based learning experience in Cape Town, where students will have the opportunity this year to contribute to social development projects.
Dickerson has clearly passed along her love for the country. Recalling her experience with a Cape Town organization called Sisters4Sisters, sophomore Meredith Daniel describes the brave women she encountered, most of whom were refugees from other countries who endured job discrimination and were often victims of sexual abuse.
"Despite all the setbacks they have faced, they are pressing on," Daniel says. "They are strong women. Some are nurses, lawyers, mothers, daughters. Some are HIV positive or have watched their family members die of AIDS. Still, they live and thrive and laugh . . . These women are not just expecting change or talking about change. They are bringing change."