Alumni
A Day On, Not a Day Off- MLK Day of Service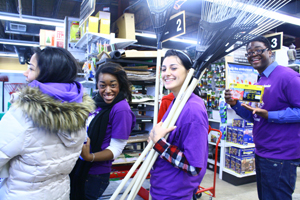 Monday, January 17 marked the 25th anniversary of Martin Luther King Day.  To celebrate this milestone, more than 250 American University students and alumni participated in an annual AU event, the MLK Day of Service, where they worked together to fulfill Dr. King's vision of a 'Beloved Community' united through service.
The MLK Day of Service at AU started in 2008 with 40 volunteers and has quickly grown into an important tradition.  This year, participants worked at ten different sites in the D.C. community supporting initiatives for youth, senior citizens, and poverty reduction.
The projects completed by volunteers ranged from beautification work to packaging food for the homeless to assisting with a computer literacy program.  Organizers worked with the host sites to identify needs that could be met by the groups and be completed by the time the volunteers depart from the sites.
One of the host sites, A Wider Circle, is an organization run by AU alumnus and professor, Mark Bergel, CAS/MA '87, CAS/PhD '96, and organizers hope to partner with even more alumni-led organizations next year. 
Don Curtis, operations coordinator in the AU Center for Community Engagement and Service, says, "a great way for alumni to remain involved in the life of the university after graduation is to help foster relationships between the center, non-profits, and the communities they."  Curtis hopes to increase the number of alumni-led organizations involved in the MLK Day of Service next year and to continue to forge ongoing partnerships with alumni in the community.
MLK Day of Service volunteers worked from 9 a.m. until 2 p.m. and then gathered back on campus for a post-service reflection. 
This year's MLK Day of Service served as the kick-off event for AU's participation in the Service Cup, a regional competition between universities to see which school can contribute the most community service this spring.  While the Service Cup is a competition, Curtis hopes that it will encourage students to focus on providing good service to the community rather than getting caught up in winning.
The Center for Community Engagement and Service at American University offers several opportunities throughout each year for students and alumni to reconnect through service projects.  For more information about these opportunities, visit www.american.edu/ocl/volunteer.