On Campus
Rival Party Leaders Steele and Ford Spar Over Future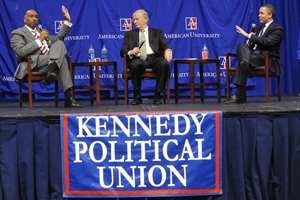 Republican party chairman Michael Steele and Democratic leader Harold Ford Jr. sparred over political ideals at Bender Arena on Saturday to partisan cheers worthy of an athletics event, giving the Family and Alumni Weekend visitors a taste of what moderator James Thurber wryly described as an example of "our main sport here at AU — politics."
The chairmen of the Republican National Committee and Democratic Leadership Council met on stage to discuss the future of their respective parties and share their blunt and often contending views on health reform and government spending.

Steele called the White House approach on health care "reckless," contrasting the push for fast action with the slow decision making and emphasis on caution in Afghanistan.

"The American people have largely spoken" on health care, Steele said, citing the "tea parties" and contentious town meetings that dominated the news this summer.

Ford retorted that while he, too, is concerned with the cost of health care reform, the current system is dysfunctional and already costing the American people in bankruptcies and illnesses. "Where Chairman Steele and I disagree fundamentally," he said, "is I think now is the time to act."

Rival cheers often broken out in the audience — a mixed crowd of students, parents and alumni — as each party stalwart put forth his views.
Steele: "When the federal government starts a program, it doesn't go away. The Frankenstein monster has nothing on it."
Loud cheers erupted around the arena.

Ford: "I love the outrage of the tea parties, but where was it when you all ran up a trillion dollar deficit?"
Another large section of the audience cheered.

But if the evening was impassioned and partisan, it was not without moments of agreement, particularly on fiscal issues. Ford is a fiscally conservative "Blue Dog" Democrat who served for 10 years as a U.S. representative from Tennessee before failing narrowly in his Senate bid amid a smear-ridden campaign that some charge had racist overtones. Both Steele and Ford are African American, and both grew up in Washington, D.C. — Steele in northeast D.C., and Ford as a student at St. Albans and son of a congressman — and are moderates within their respective parties.

At times, each criticized his own party.

Why did the Democrats win over so many voters? According to Steele, who was slamming the high spending of the Bush years: "Because the Republican Party lost their mind. My job going forward is to make sure my team gets it right and doesn't screw it up."
When the time came for questions from the audience, one student asked a question that, in many ways, cut to the heart of the matter: Is health care for Americans a privilege or a right?
Ford: "A right."
Steele: "A privilege. I don't see it defined in the Constitution."
The evening was a hit not only with students, but with parents such as Mark Cumbest of Moss Point, Mississippi, who was attending Family Weekend. His son, Reid, had skipped the evening for dinner in Georgetown with his mother, but the elder Cumbest, an enthusiastic Republican, kept them apprised of the verbal action by text message. "I wouldn't have missed it," he said as the crowd filed out, with many parents commenting to each other about how exciting it must be to attend school in a place where events such as this debate are regular fare. 
The talk was hosted by the Kennedy Political Union and moderated by Thurber, a professor at the School of Public Affairs.