Arts
The Real and the Surreal Collide at the AU Museum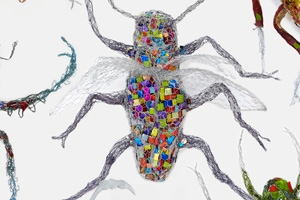 Some artists use imagery of the past and present to form new—sometimes bizarre—interpretations. Others find magic in the mundane. Still others use science and art to critique our culture.
Starting Saturday, November 3, five new exhibitions featuring significantly cultural and culturally significant works by contemporary artists—including photos that reinterpret religious iconography and giant, shimmering glass and metal beetle sculptures—will be on display at the American University Museum at the Katzen Arts Center. The new exhibitions, which run through Sunday, December 16, are: Ivan Pinkava: Remains 1997–2011, Joan Danziger: Inside the Underworld,David Humphrey: Pets, a President and Others,Matthew Kenyon: Flash Crash,and Carol Brown Goldberg and Anthony Szulc: The Color of Time.
Revelation: Major Paintings by Jules Olitski also remains open at the museum through December 16.
Ivan Pinkava: Remains 1997–2011
Words do not always translate smoothly from one language to another. But images can. Pictures transcend national and cultural boundaries. Powerful images will resonate at a basic human level, regardless of the viewer's background.
Ivan Pinkava: Remains 1997-2011 is deeply rooted in common cultural experiences. Pinkava's dark, dream-like photographs emphasize the human body. Each model is carefully positioned. Each has an individualized personality. Yet, each functions as a mirror of culture—perceptibly linked to myths, Biblical stories, and introspection. The photographs serve as modern reminders of our visual past.
A renowned Czech photographer, Pinkava has earned international recognition, a testament to the universality of his work. His gripping pieces are featured in FotoWeekDC, a week-long festival that showcases works by professional and amateur photographers.
The exhibition is organized in collaboration with the Embassy of the Czech Republic.
Joan Danziger: Inside the Underworld
Who knew insects—usually considered pests—could be magical?
Joan Danziger's Inside the Underworldfeatures 73 glass and metal beetle sculptures varying wildly in shape, size, and iridescent color. Crawling up the walls of American University's Museum, the creatures emanate the magic of a Brothers' Grimm fairytale.
Danziger experimented with glass for the first time in crafting this exhibition the museum. In the creation process, Danziger cut colored glass into various shapes and then fused them in a kiln. Using wire, she then molded each glass form into the shape of a beetle. Danziger says the process is like abstract painting.
A graduate of Cornell University, Danziger has also studied in New York City and Rome. Washingtonians are familiar with her work, which has been displayed in many venues across the city during Danziger's 40 years as a D.C. resident. Her unconventional art has been shown across the country in both corporate and public settings, including the New Orleans Museum of Art and the Discovery Channel.
David Humphrey: Pets, a President and Others
Surrealist painter David Humphrey bends popular images to his whim, underlining psychological themes with his bold interpretations of culture.
Humphrey's Pets, a President and the Others presents a broad array of imagery. Re-imagined characters populate his canvases–from President Dwight D. Eisenhower to snowmen and puppies. Bizarre and bold, grinning and graphic, the artwork challenges viewers to question what it means to be human.
Pets, a President and the Others is a "best-of" Humphrey's works, featuring pieces from the last ten years. Humphrey, whose career began in New York, is an Artist in Residence in American University's Department of Art. His paintings and sculptures have received international acclaim. An art critic, Humphrey recently published an anthology of art essays titled Blind Handshake.
Matthew Kenyon: Flash Crash
Art, technology, and pop culture align in Matthew Kenyon's Flash Crash, a multi-media installation display.
In Flash Crash, Kenyonintegrates interactive technology into his creations as a commentary on modern life. Computer technology and artificial intelligence serve as mediums for Kenyon's pointed cultural critiques.
Like Humphrey, Kenyon is an artist in residence in American University's Department of Art. He is the co-founder of SWAMP (Studies of Work Atmosphere and Mass Production). Since 1999, SWAMP has explored and satirized the effects of corporations, mass media, and industrial society. SWAMP artists work with computer software and electronics—and often times living people—to execute their experiments.
Carol Brown Goldberg and Anthony Szulc: The Color of Time
Somewhere between memoir and documentary lies Carol Brown Goldberg's and Anthony Szulc's video collaboration The Color of Time.
Painter and sculptor Carol Brown Goldberg joins filmmaker Anthony Szulc to explore the interlocking forces of art and time. Painting, film, sculpture, music, and poetry intersect in their nine-minute film endeavor. The Color of Time strives to discover how we reinvent the past and how art shapes memory. Time–the short film concludes–is transparent.
Goldberg's work with Szulc blurs boundaries of traditional filmmaking to create a new genre of cross-media collaboration where painting and film can coexist beautifully.