Government & Politics
AU Faithful Experience Inauguration 2013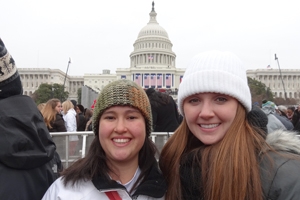 As President Barack Obama took the oath of office for a second time under overcast skies, scores of AU faithful witnessed history as it happened. 
Obama, the nation's first black president, won both the popular and electoral vote in November to secure a second term. Roughly a million people descended on the National Mall for the historic event.
The crowd was not as large as the 44th president's first inauguration, which drew 1.8 million people to the city, but it still felt monumental. Few had a better vantage point from which to view celebration than the AU community.
We asked some AU students, past and present, to offer their accounts of the day. Here's how they experienced it:
Sachel Seabrook, SOC MA '13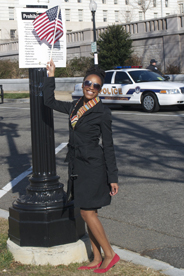 From witnessing the swearing in ceremony to dancing with a Tuskegee Airman at the Commander-In-Chief Ball, this weekend was one I will never forget. As a photographer and storyteller at heart, my main goal this weekend was to capture memories. But as I inhaled the crisp air and got knocked around by the wind while walking through mazes of closed streets and crowds, I realized it wasn't all about the documentation, but rather the experience of just being here. As I enjoyed the moment and talked to people who traveled by car, plane, bus, and train from all over the country to be here to celebrate President Obama's second inauguration, I left feeling so inspired. 
From the moment I stepped off the Metro, I was overwhelmed with excitement. It didn't matter how cold it was or how crowded the trains were, hearing the vendors on the side of the street yell to attract customers, doing a little dance in the streets as the patriotic music played from inside the restaurants along Pennsylvania Avenue and waving my American flag with thousands of others helped make this day unforgettable. 
As I stood at the ceremony and thought about how we were also celebrating the 50th anniversary of Dr. Martin Luther King, Jr.'s "I Have a Dream" speech, I became overwhelmed with a feeling I can't explain. 
As I spoke to service members as they entered into the Commander-in-Chief Ball, I was humbled to hear their stories. Although I work side-by-side with airmen everyday, to meet young service members and to join them as they listen to stories from living legends such as Tuskegee Airmen was truly a moment where I felt so grateful. 
PHOTOS: View Top Images from AU at Inauguration 2013

Once again I became inspired, driven and focused on my goals. To experience this inauguration, to be a part of history, to be in this city and meet generations of Americans who all believe in moving this country forward, it's truly magical.
Mark Lieberman, SOC '16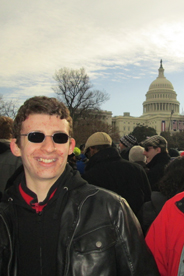 Despite the fact that I had to wake up several hours earlier than usual, I felt a peculiar sense of energy and excitement as I made my way down the Red Line to the Judiciary Square Metro stop. My enthusiasm only increased as my friend and I navigated a winding network of D.C. streets filled with fellow inauguration-goers.
After about an hour, officials began notifying the spectators in my area that there was a possibility that we would have the opportunity to move up to a closer section beyond a nearby fence. Pandemonium quickly ensued, with people jostling to reach the newly opened gate before the area reached capacity. For a few brief moments, I found myself unable to control my own movement — the crowd had swept me up in a burst of hysteria.
The waiting clearly was half the fun. The ceremony was a worthy complement, however. While we were too far away to make out specific bodies or faces, the booming voices of Obama, the inaugural poet, and the highly entertaining musical performers fused together with the unshakeable energy of the enormous crowd. I was swept along in the current of patriotism and emotion. Was it cold? Yes. Was it tiring? Yes. Was it worth it? Without a doubt. It was a day of memories, goose bumps, and history.
Lizzie Martinez, SPA MA '13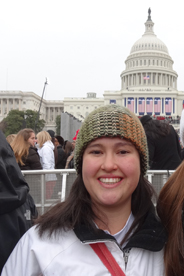 Inauguration is something everyone should experience once. I rose at 4 a.m., met a fellow AU grad student, trekked to the National Mall and reveled in the energy I felt. Now I'm hooked. My first inauguration was amazing, but I can't wait until the next time I enter this city, join the masses in waiting and cheering together, and welcoming another president into our democracy.
I met people from San Francisco, Seattle, New Jersey, Alabama, and New Hampshire. I heard stories of people who were first-timers and people who had been coming to inaugurations for years. It was worth standing in line in the cold for hours and hours waiting, worth holding the camera over my head for as long as I could to grab a better picture to share with friends not able to attend.
In the end, after all the waiting, what I will remember twenty years from now is not any of the particulars — the speech, the musical performances, the oath, the random protester in a tree screaming. I will remember the feeling of being very small, of being one of many. And the joy of living in a country where a symbolic act of democracy still draws nearly one million people to celebrate.
MORE: Obama Faces Tough Second Term, AU Experts Say

Lorraine Magee, CAS '15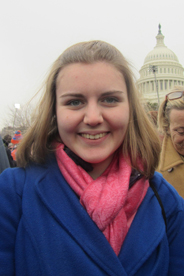 From the second I stepped foot on the National Mall at the inauguration, I could feel the amazing energy of all the attendees. I also felt like a part of the American University community. I ran into AU students and alumni all over the Capitol. With tickets to a standing section on the lawn of the Capitol, we were able to see President Obama give his inaugural address with our own eyes.
As AU students and American citizens, we were all there for different reasons. Some went to see a ceremony that represents the peaceful passage of power, and some to support a president that they had spent the whole fall campaigning for. 
Regardless of why we attended, there was a sense of togetherness in the AU community at the inauguration. One quote by President Obama particularly stuck out to me. He stated, "We are made for this moment, and we will seize it — so long as we seize it together." In this country, we are experiencing a moment of opportunity.
Regardless of political party, gender, race, or age, we are all working together to seize the moments that come our way. With our AU education and experiences, we are bound to succeed. For me, the inauguration was just one example of how the AU community works to engage itself in our society's progress. We know that when we engage, cooperate, and celebrate together, nothing can stop us from embracing our opportunities.
Joseph Butensky, SPA '16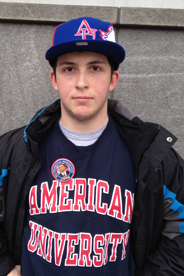 People will always tell you how D.C. is such an awe-inspiring place with loads of opportunities at your disposal. But you can never truly understand what they mean until you venture out and take advantage of what the city has to offer. At inauguration, the National Mall acted as a host to history, as President Barack Obama became the first black president to be re-elected to a second term. Combined with the fact that this date coincided with Martin Luther King, Jr., Day, the atmosphere was unparalleled.
Walking through the National Mall with a couple friends, I saw news organizations reporting live on the events that were to unfold, street merchants selling Obama shirts and other memorabilia, and even people just dancing in the street. 
It was a unique experience for me to meet people from all around the country — even an AU alum — who came together for a common, positive purpose that I will always cherish. We were all moved by Obama's inaugural address and impressed by Beyoncé's vocal delivery during the National Anthem. This was a day that I will never forget for as long as I live.
Bridget McGeady, WBAL-TV 11 photographer and editor, SOC '01
My assignment for the inauguration was to operate the satellite truck during the inauguration not only for my TV station, but also for our Washington D.C. bureau reporters, and crews from our sister stations. I covered President Obama's first inauguration in 2008 and until that day, I had never been in a crowd like the one on the National Mall. The last four years feel like they've flown by.
Through the magic of broadcast engineering, live shots, and video from the Mall are beamed to cities around the country. When you see a reporter standing in front of the Capitol, a photographer is standing behind the camera and a satellite truck operator is standing behind the photographer. Hundreds of feet of audio/video/electrical extension cable are run from the camera to the truck. That big dish on top of the truck needs to be pointed at the correct satellite. That's complicated enough, but now add several thousand people walking on and through your equipment, January temperatures, a 20-hour work day, etc., and with some variations you've got the inaugural work day for hundreds of members of the media.
During a lull in the ceremony, I headed out of the truck to see and hear what I could. It wasn't very much, but like many others in the crowd, being there in a uniquely American moment was enough. Regardless of your politics, it's hard to not be affected by the sight of hundreds of American flags waving cheerily in front of the Capitol. Everywhere you looked, people beamed. 
When all the TV crews wrapped, it was wheels up. My arms, legs, and back ached from the cold and from breaking down all of our equipment. Though it's difficult, and I might just plan some vacation days come January 2017, I've been very lucky to witness presidential inaugurations.
Dave Paddock, Glen Echo Fire Department EMT , SPA '14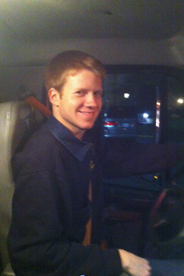 More than one million people came to witness the celebration of leadership that is the presidential inauguration, but there was a far smaller number who came to lead. I led my crew on Ambulance 794 through 19 hours of chaos.
My day began at Glen Echo Station 11, just up the road from AU's campus, at midnight. By 3:30 a.m., ambulances from D.C., Virginia, and Maryland had all met at the D.C. Fire Rescue training academy for a briefing. By 5 a.m., we had navigated our way through D.C.'s network of street closures and parked at the Chinatown fire station.
Things stayed pretty quiet while crowds gathered on the National Mall. A few calls for help here and there, but our resources easily kept up with demand. But when the speeches ended, the EMS group took their last collective breath of stress-free air.
Soon, every ambulance was in use, and even more were being demanded. Crowds were so thick, it became difficult to even reach emergencies. D.C. became so swamped with calls so they began dispatching us to intersections, leaving a square block's worth of real estate where our patients could be. We didn't stop until 7 p.m.
The thing that struck me most was the crowd — laughing, smiling, cheering, completely absorbed in the moment. They looked to their president for strength and resolve, and in his greatest public appearance, President Obama turned to us. I am blessed to know that my crew of four, two of whom are still in high school, followed me through inaugural chaos. There were times I didn't know where we were going or what we would find, and every other unit was tied up elsewhere, but we persevered.