Alumni
Two New Alumni Chapters Represent Growth in Alumni Programs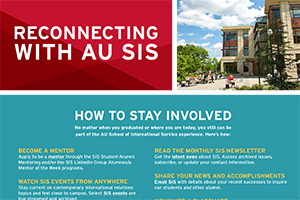 With the help of some new, dedicated volunteers, American University has once again expanded the geographic reach of our alumni programs. Over the past few months, new alumni chapters have formed in St. Louis and Buenos Aires. Additionally, alumni have offered to serve as area representatives in Columbus and Cincinnati.
St. Louis and Buenos Aires join the list of 22 domestic and 12 international regional alumni chapters supported by American University. The St. Louis chapter is led by Sreenu Dandamudi, SIS/MA '98, and Brenda Hamilton, CAS/BA '98. Both lawyers, Sreenu has served as a Commissioner to the Administrative Hearing Commission for the state of Missouri. Brenda works at the firm Evans & Dixon in St. Louis.
Scott Pearson, SPA/BA '98, is leading the newly formed Buenos Aires chapter. During his tenure at AU, Scott played varsity soccer, and he was named to the AU athletics hall of fame in 2008. Now, as an American ex-patriot living overseas, Scott is eager to help forge personal and professional connections among alumni in Argentina. The first chapter event, held in early June, brought together a wonderful group of alumni with diverse backgrounds, and Scott looks forward to organizing more events like it. 
In addition to our long-standing chapter program, AU recently launched a program to encourage alumni representation in areas where we have smaller populations of Eagle alumni. Area representatives serve as the local resource for potential and current AU students, as well as alumni and engage with university staff in various ways throughout the year. Recently, Max Kinman, SIS/BA '06, volunteered to serve as the area representative for the Cincinnati area. Max, an attorney and devoted Cincinnati Reds fan, is excited to represent AU in the area. 
Additionally, Aaron Goldstein, SOC/BA '02 and Jessica Leiken, SIS/BA '02 have volunteered to serve as area representatives for the Columbus, Ohio area. Aaron and Jessica are a husband and wife team who met at AU and are looking to foster a sense of community in and around Columbus. They will have an opportunity this fall, when the AU men's basketball team travels to Columbus to play at Ohio State University. Aaron and Jessica are already planning for a great showing of Eagle pride at the game. 
Want to help lead an existing chapter? Interested in serving as an area representative or starting a chapter in your city? Contact Melissa Bevins at auchapters@american.edu to learn more and get started.