Achievements
Kogod Students to Compete in Minority Case Competition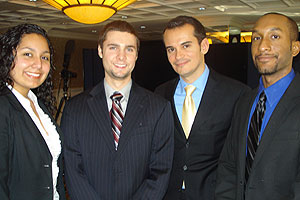 For the first time, a team of students from Kogod is competing in Howard University's 5th Annual Minority MBA Exclusive Case Competition, held November 5 -6 in Washington, D.C.
In order to compete, at least 50 percent of the team must be comprised of individuals from an ethnic minority group.
In total, 12 schools are sending teams to compete, including Syracuse University's Whitman School of Management, MIT's Sloan School of Management, The University of North Carolina's Kenan-Flagler Business School, and Yale University's School of Management.
Three of the members of the Kogod team – Luisa Reyes, Ezequiel Williams, and John Hunolt -- met through the Hispanic MBA Club. They added a new PT MBA student, Anthony Frazier, as their fourth and final team member; Professor Heather Elms is their faculty advisor.
The students will present to judges on Friday, Nov. 6; the case is based on real government issues and is provided by LMI Government Consulting, the competition's sponsor. The case was released electronically to teams on October 23.
The case competition is part of a larger career fair and conference that all Kogod students are invited to attend free of charge. There are two days of workshops, networking and professional development opportunities scheduled to take place at the Hilton Washington Embassy Row.