In the Community
SIS Hosts "America's Role in the World - Views from Abroad"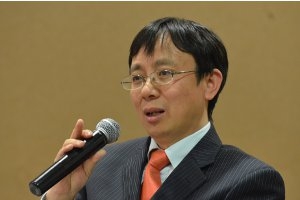 "No country can be number one forever," said Wu Xinbo, associate dean, School of International Relations and Public Affairs, Fudan University in China.
Wu's views echoed the message of several global scholars gathered at SIS last week to examine the role of the United States in the world at a day-long symposium co-sponsored by the University of Toronto's Munk School of Global Affairs, the Canadian Embassy and SIS.
As scholars from Australia, Brazil, China, France, India, Mexico, Turkey and Russia, and representatives from organizations such as the Brookings Institution, the German Marshall Fund and the Observer Research Foundation, presented their wide-ranging views on America's global role, some common themes emerged.
Benjamin Schreer, of Australian National University, said the United States, "despite its decline and China's rise," will still have a role in shaping Asia. And whether in Asia or other continents, the scholars gathered agreed that the United States must learn to live in a world of shared power. C. Raja Mohand, head, strategic studies and distinguished fellow, Observer Research Foundation, said that the U.S. should define and focus its priorities, and shift from a "dominant strategy to an observant, off-shore strategy." The U.S. should "allow regional contradictions to unfold," said Schreer.
The view from abroad was that since World War II, the U.S. has often overreacted to perceived threats and let fear shape its military and economic policies. It kept its focus firmly rooted in the past, for example, through policies aimed at saving "dead manufacturing," such as the tire industry, rather than encouraging the development of new industries, such as clean energy, said Wu.

Frightening as the prospect is for most Americans, one scholar even suggested that the U.S. might have to learn to live with the fact of Iranian nuclear weapons.
The view from abroad wasn't all bleak, and foreign observers are not thinking as much about who wins the U.S. presidential election as they are about long-term U.S. policies in a more balanced, power-sharing world. Observers felt the U.S. should shake off its group depression from recent financial woes, draw on its ethnic diversity and considerable resources and learn from countries such as Brazil and Australia that have thrived without strong military forces. As Schreer put it, the U.S. must learn the difference between "strategic or reputational interests."