Technology
Information Technology Executive Council's Support Stronger Than Ever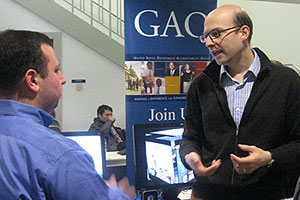 Leif Ulstrup recently accepted a new position with the technology firm CSC as president of the Federal Consulting Practice. It's his fourth leadership position within the information technology industry since he became a member of Kogod's Information Technology Executive Council about a decade ago. And although his professional affiliations have changed, his connection to Kogod has not wavered.
"When I first joined the council, the dot-com world was still going strong and the Kogod School was oversubscribed with students interested in e-commerce," Ulstrup said. "The emphasis has shifted to Web 2.0, consulting, cyber-security and governance, risk, and compliance issues. But the passion of the ITEC members to help students get launched in a career in our field remains the same."
With almost two decades of leadership behind it, the council of 20 senior IT leaders continues to influence and guide the Kogod School of Business and the university as a whole.
Many of the members represent significant employers in the Washington, D.C. environment. One such employer, IBM, was involved in Friday's IT career expo, IT's a Carnival. The event gave organizations the spotlight to showcase how information technology is enabling their business, regardless of whether the industry is government, nonprofit or in the private sector.
"We're here to support the students and tell them about the AARP's internship program," said Robert Juba, a senior IT manager with AARP who attended the annual event for the first time last week. "We also want show them how we use technology to drive marketing results." 
But the ITEC Council's support of Kogod students extends beyond special events.
"They all, without exception, work in the classrooms," explained Professor Jill Klein, who co-chairs the council along with Ulstrup. The council members guest lecture, speak to student clubs, conduct mock interviews, sponsor research projects, and judge competitions. Some have even hired graduates to work for their firms. 
All of the council's work supports the three main elements of its mission, according to Ulstrup: to promote the IT concentration; to work with faculty to ensure that material is relevant to the workplace; and to guide students to build strong,well-rounded resumes to make themselves stand out to employers.
Last year, AU President Kerwin established an Information Technolgy and Innovation Task Force co-chaired by AU CIO Dave Swartz and Librarian Bill Mayer. After Swartz and Mayer presented their ideas and the challenges they faced at the council's Fall 2008 meeting, the council members provided extensive feedback that was incorporated into the plan.
"AU would have to pay thousands of dollars if it were to pay consultants to provide this high level of expert advice," explained IT Professor Bill DeLone. "This is an example of the value this group of executives brings to not only Kogod but to the entire university."
Council members insist that the pleasure is theirs.
Mary Crannell is a relatively new member, having joined the council about two years ago. Crannell is founder of Idea Sciences, a company that designs decision support tools to assist organizations to make smarter decisions. She cites the collegial relationship between council members, their eclectic perspectives and the opportunity to meet with students among the many benefits of participating.
"To meet with students and be able to hear what they're planning and how they're looking at the world gives us a different perspective, and it's wonderful," she said. "We get much more in return, because students really do bring that enthusiasm to issues we've been looking at for awhile."
"I hope the ITEC remains valuable in supporting the students and faculty of Kogod as IT continues to evolve and shape our lives," concluded Ulstrup.
And for the future? "Given how many members are current or former senior executives in government IT roles, I also hope we can encourage more AU students interested in public administration to consider a career in IT helping the government as either a consultant or employee," he said.