Achievements
AU Named a Top Producer of Fulbright Scholars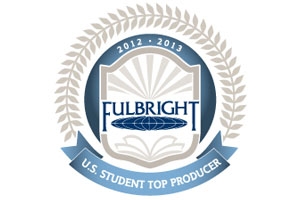 The Fulbright Program recently named American University a "top producer" of U.S. Fulbright Scholars, with 14 awardees and one alternate this year. The list, issued by the Chronicle of Higher Education, includes Cornell, Princeton, and Duke University, with AU ranking above many peer institutions.

AU's Fulbright recipients reflect a commitment to international understanding and scholarship. From science and filmmaking to citizenship issues and grassroots movements, each scholar's project reflects AU's diverse research opportunities.  
Of the 14 recipients, nine research grant recipients traveled to Canada, Ethiopia, India, Mexico, New Zealand, the Netherlands, Norway, Russia, and the United Kingdom; four students received English Teaching Assistantships in Jordan, Taiwan, and Turkey; and the recipient of the Fulbright Public Policy Fellowship is currently in Bangladesh. 
Isabelle Zaugg, SOC/MFA '14, received a Fulbright research grant to travel to Ethiopia and train students in digital media. For Zaugg, the grant fosters interests in education, filmmaking, and cultural exchange.
"It's exciting to be the pilot of something I've designed and have a lot of freedom to really do something that I came up with," Zaugg said.

Zaugg is partnering with the Addis Ababa University Alle School of Fine Arts and Design and Whiz Kids Workshop, a nonprofit studio that produces children's programs for Ethiopian Television. 
She held her first filmmaking workshop for university students about six weeks after arriving in Ethiopia in mid-August.

"I discovered when I got there that they're actually trying to start the first film school in the art school where I'm working, and they're in the final process of getting it approved," Zaugg says. "And it was really exciting because my workshop … became an incubator for some of the interest."

When Zaugg returns from Ethiopia, she plans to finish her MFA in filmmaking at AU and apply for academic jobs across the country.

Similarly excited about her experience is Emily Pfefer, SPA/BA '11, AU's first Fulbright scholar to the United Kingdom and recipient of the Fulbright-London School of Economics Postgraduate Award. 
She is currently working on her master's degree in social policy at the London School of Economics and investigating gender-based discrimination with respect to women's pay in the United Kingdom. Pfefer is also interning with Baroness Claire Tyler in Parliament's House of Lords.

"I'm learning a lot more about the workings of the party system and the political system and the parliamentary system from seeing it from the inside. I never had an internship on the Hill, so it's pretty interesting," Pfefer said.

Pfefer's decision to come to AU was driven by her interest in women's workplace issues. Her two-year internship as an undergraduate with the American Association of University Women, postgraduate work with the Planned Parenthood Federation of America, and volunteering at the Sewall-Belmont House and Museum helped further cultivate this interest. 
Pfefer hopes to continue researching and working in women's advocacy and policy after returning from the United Kingdom.
Her advice to prospective Fulbright applicants: "Listen to people, do your homework, and really, really think about where it is you're going to go, where it is you're going to be—you're only going to get one chance."