Orientation is Green!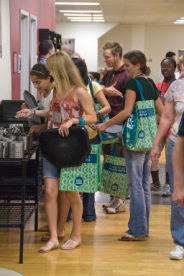 Orientation Programming: NSP is constantly revisiting everything they do during new student orientation to finds ways to make the program more sustainable.
Sustainable Gift: Last summer NSP partnered with the Campus Store to provide sustainable gifts for our New Student Orientation giveaways!
Publications: NSP has reduced the size of its printed publications, moved publications to a web format, and created an informational brochure that will serve as a folder for collecting information during the summer. NSP's publications are FSC approved and printed on 100% recycled paper.
Chemical Toxicity: NSP has committed to consider and minimize chemical toxicity in its purchasing of appliances and office supplies.
Office Purchasing and Behaviors: NSP was the FIRST department in the Office of Campus Life and at American University to be certified by Eco-Sense, AU's eco-certification and eco-awareness group.
Paper: To reduce the amount of paper used, NSP is eliminating the thousands of informational fliers it previously distributed to first-year, in favor of an online resource; if printed material is needed, NSP creates documents that are double-sided or only quarter sheet-sized. NSP is also making an effort to reduce its purchase of bright and dark colored paper since it cannot be recycled.

Recycling: NSP recycles all paper used in its office. Paper that has only been used on one side is reused for printing or as scrap paper. Additionally, the name badges participants receive at all of NSP's programs convert to luggage tags.

Energy Efficiency: All NSP office equipment, from computers to copiers, are set to energy saving modes. NSP has made a commitment to purchasing Energy Star certified appliances.