Leadership Opportunities
Participation with Student Conduct and Conflict Resolution Services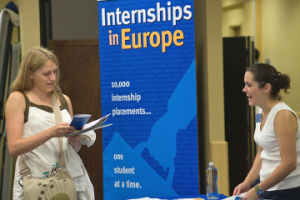 Conduct Council Member
(Click Here for Faculty/Staff Member Application)
(Click Here for Student Member Application)
NOTE: Each of the above links are PDFs and are not edit-friendly. They are intended to be printed out, filled in, and delivered to our office. If you would like to email your application to us, please first send us an email at conduct@american.edu and we will reply with a Microsoft Word document (.doc file) for you to fill out electronically.

Students, faculty, and staff are invited to serve as members of the Conduct Council board. The Conduct Council is a community review board comprised of faculty, staff, and students who adjudicate serious violations of the Student Conduct Code for non-academic student misconduct matters. Members are required to participate in an orientation which covers the role and responsibilities of board members. Hearings generally take place on Wednesday, Thursday and Friday afternoons. The length of a hearing is typically 4 hours depending on the complexity and nature of the case. The time commitment is approximately two hearings per month (8-12 hours).


Conflict Resolution Services Mediator
(Click Here for Mediator Application)

Students, faculty, and staff are invited to volunteer as mediators in American University Conflict Resolution Services to assist the university community to resolve interpersonal, inter-group, and organizational conflicts. All Conflict Resolution Services mediators are trained and experienced in mediation and other forms of alternative dispute resolution (ADR). American University Conflict Resolution Services uses a co-mediation model with two mediators assigned to each case. Volunteer mediators are members of the university community, including faculty, staff, and students. Volunteers will be required to participate in a 24 hour basic mediation training offered by Conflict Resolution Services. Participants in training are not required to volunteer with Conflict Resolution Services at the conclusion of training.


American University Conflict Resolution Services Intern / Mediation Coordinator


The internship is for approximately 10-20 hours/week.  Regular duties will include the following:
Attend and conduct (when possible) mediation intake meetings.
Assist with 20-hour mediation training for volunteers (to take place during one weekend).
Coordinate public outreach for Conflict Resolution Services.
Assist with efforts at curricular infusion with faculty.
Ongoing training and development for trained mediators and others interested.
Possible projects include the following.  The intern, in collaboration with their supervisor, will select a project for the intern to lead for the semester.  The project will consider the professional development interests of the intern and the needs of the office.
Review and revise the mediation manual.
Review and revise mediation training.
Develop the conflict coaching manual and training.
Research and development on potential arbitration services and restorative justice services.
Manage curricula infusion work within the office.
Conduct outreach to campus groups interested in Conflict Resolution outreach programs.
Develop educational programs for repeated use by Conflict Resolution Services.
Revise and develop the Conflict Resolution Services website.
Develop resources related to community-specific conflict resolution (i.e. landlord-tenant disputes).
Research and summarize the history of Conflict Resolution Services at American University.
This internship reports to the Assistant Director for Student Conduct and Conflict Resolution Services. Interested applicants should submit a resume and cover letter to conflictresolution@american.edu.