Alumni Profile
Justice for All
By Genesis Keller
September 8, 2009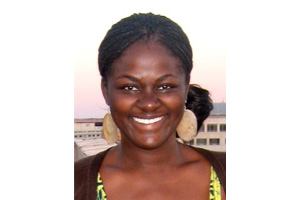 As a result of many years of neglect and decline caused by political intrusion and conflict, the judicial system in Liberia has suffered a severe decline in its effectiveness and public confidence. Although many challenges remain, many international donor partners (IDPs) such as the World Bank are working closely in collaboration with their Liberian counterparts to introduce reforms intended to strengthen and improve the Judiciary.
The Judiciary, led by Chief Justice Johnnie Lewis, has expressed an interest in working with the donor community and members of the justice sector in Liberia to enhance access to justice. One of the grants given to Liberia from the World Bank focuses on capacity building for judicial services. Akua Gyekye, an AU alum, is helping to administer this program. Before she traveled to Monrovia, Gyekye reviewed and analyzed some of the major challenges of the Liberian Judiciary using relevant texts on the rule of law sector. Now, she focuses on prioritizing their reform in coordination with the World Bank's Task Team, which is based in Washington, DC. We have committed ourselves to a wide array of issues such as providing support to the Public Defenders, law students, improving access to justice and legal information, and introducing court-connected Alternative Dispute Resolution (ADR) to Liberia relying on best practices from Ghana, which has been widely praised for its ADR program. Gyekye's work also requires her to regularly liaise with other donor agencies and non-governmental organizations on behalf of the World Bank Task Team to promote donor coordination and avoid duplication of efforts. 
Unfortunately, Liberia still has a long way to go before its institutions, such as the Judiciary, can operate without the assistance and support of the donor community.  
"I believe the time for change is now, and I am confident that my Liberian colleagues and friends are even more eager than I am to bring Liberia to a higher level of development," said Gyekye.