Department Success Story
GLBTA Library
By Genesis Keller
October 14, 2009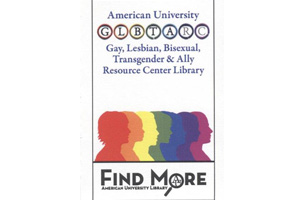 Are you looking for more information on gender identity, expression, or sexual orientation? What about the history and current culture of the GLBTA movement? Well you're in luck: The Gay, Lesbian, Bisexual, Transgender, and Ally Resource Center has partnered with Bender Library for a reopening just in time for the fall 2009 semester.  
Located in Mary Graydon Center 201, the Resource Center Library houses a variety of sources including books, magazines and DVDs. Material can be found on queer theory, popular/current culture and the history of the GLBTA movement as well as the complete "L Word" and "Queer as Folk" series on DVD. All AU staff, faculty, and students are able to enjoy these materials for educational and personal purposes.  
These resources can be accessed using the Aladin system which will allow searching through the entire collection of GLBTA books and DVDs. By logging on to the library's website, students and faculty can search through the resources by using the Catalog Quick Search feature of the site.  
According to Matt Bruno, the Program Coordinator of the GLBTA Resource Center, access to these resources is extremely easy.  
"Any AU community member can check out materials from the library, and all that is needed is a current AU ID.  We are also always looking for ways to expand our collection, so suggestions and/or donations are welcome."