International Success Story
Road Trip USA: Amish Country
By Kenny Clark
April 1, 2010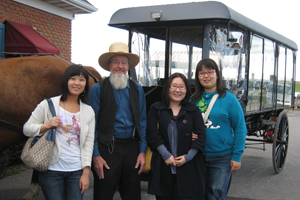 "WOW! That's the first time I have ever seen a cow!" exclaimed one student.  
As a part of the International Student and Scholar Services (ISSS) "Road Trip USA" program, fifty-five students toured Pennsylvania Dutch Country in a large bus and learned about the American Amish Culture.  The program offers monthly trips across the East Coast to show international students American multiculturalism.  This particular daytrip focused specifically on the food, traditions, and culture of the Amish. 
After a morning a bus ride to Lancaster County, the group of students were greeted by the Allgyer family and welcomed into their home for lunch.  The group ate homemade meat loaf, mashed potatoes, and apple pie all made from scratch by the Allgyers.  After the multi-course meal, the family gathered in the dining room and sang traditional songs in High German. 
AU senior Miriam Meyer, a resident of Lancaster, led the group on an informative bus tour of Amish Country. The group visited the oldest home in the county, purchased snacks and gifts at a local store, and saw one-room schoolhouses.  As a native of Lancaster, Miriam offered wonderful insight into the history and culture of the Amish.  
The day concluded with horse-drawn buggy tours through Aaron and Jessica's Buggy Rides.  Students stepped back in time as they leisurely rode across the beautiful countryside of Lancaster County.  The buggy drivers, some of whom were Amish, told participants about Amish customs and lifestyles.