International Success Story
Road Trip USA: Nyumburu Cultural Center
By Kenny Clark
March 30, 2010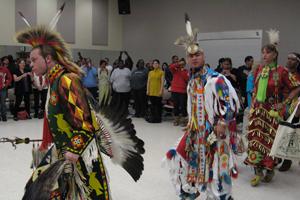 Dressed in colorful costumes, Native American tribes from across the East Coast gathered to celebrate their history and culture. Participants ate American Indian food, watched dance ceremonies, and listened to authentic instrumental music.  
Students arrived at the University of Maryland's Nyumburu Cultural Center to a strong smell of burning incense.  After a brief wait, a long procession of Native Americans wearing traditional clothing danced into the room.  Carrying the flags of their tribes, they chanted and danced to the beat of flutes and drums.  Students snapped photos as tribes danced, sang, and played instruments.   
Halfway through the day, performers and onlookers took a lunch break. Outside of the powwow, Navajo vendors sold fresh Native American fry bread, tacos and chili. Students munched on chewy fry bread covered in honey and powdered sugar. While some ate, others browsed a nearby table selling American Indian clothing and jewelry.  
The trip concluded with a final performance by all of the tribes and a raffle. Christy Tang, a student from China, won a gift box of assorted cheeses. As the powwow ended, students reflected on the performances and food, and were grateful to have learned about Native American culture.  
International and U.S. students visited the powwow at the University of Maryland through Road Trip USA. The program, hosted by International Student and Scholar Services (ISSS), provides international students with travel opportunities to experience different aspects of American culture. Trips take place once a month and all AU students are welcome to join.