International Success Story
Road Trip USA: U Street
By Kenny Clark
March 31, 2010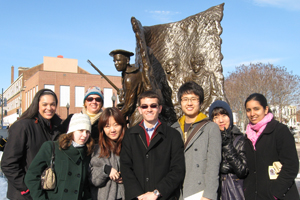 "African-American history is a part of American history… plain and simple," explained tour guide LaVerne Holmes.
A group of AU's international and U.S. students toured U Street, a historically black neighborhood. Through the Road Trip USA program, hosted by International Student and Scholar Services (ISSS), international students were given an opportunity to learn more about African American history in the D.C. area.  
Dubbed "Black Broadway", U Street is home to famous jazz clubs, restaurants, and historic African American sites.  Students enjoyed a guided tour through the vibrant neighborhood with LaVerne Holmes of Site Seeing Tours, Inc. For lunch, the group ate chili dogs at the infamous Ben's Chili Bowl.  Famous patrons have included Bill Cosby and President Barack Obama, the only two individuals that eat free. 
One of the most informative stops along the tour was the African American Civil War Museum.  The group learned about African American participation in the Civil and historical falsehoods surrounding their service.  Hari Jones, Curator of the museum, debunked fictional information from the film "Glory" and explained that "the true story is far more glorious." 
Road Trip USA is a program that has monthly trips and events to expose international students to American multiculturalism. On the trips students are given guided tours, taste delicious cuisine, and visit culturally diverse locations on the East Coast. Although it is sponsored by ISSS all AU students are welcome to participate.