Faculty and Staff Success Story
Staff Success: Karen Gerlach
By Genesis Keller
April 23, 2010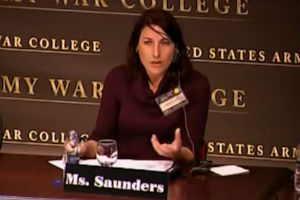 Have you ever wondered who the genius was behind all those great activities that occur every day around campus? Or who's thoughtful enough to give away so many freebies to students? Dr. Karen Lynn Gerlach, that's who! Dr. Gerlach is the director of student activities and the AU community is not the only one who thought she should received a great round of applause. Gerlach was recently awarded the Pasty Morley Outstanding Programmer Award at the 50th Anniversary National Association for Campus Activities National Convention (NACA). Every year this award is given to one person who best defines an outstanding advisor for campus activities. The award is named after the late Patsy Morley who was a former NACA Board chairwoman and who passed away in 1981.  
Bill DeBaun, a 2009 AU graduate, nominated Gerlach for the award. He explained to NACA that "Karen is incredibly, almost unbelievably, versatile in both the range of events she has helped student groups to execute and the scope of her knowledge of the myriad aspects that need to be planned in order for an event to be successful." 
NACA's purpose is to create a link between education and entertainment communities in order to create more business opportunities for students and professionals. It is one of the largest collegiate organizations for student activities with over 1,000 member universities and colleges. Over 2,500 event bookers and campus activities director gather at the national convention every year to network and receive training in order to further improve their advising.