Alumni Profile
Success, one day at time.
By Christy Nichols
November 10, 2009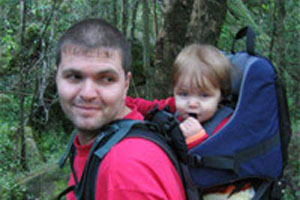 "Success can only be measured one day at a time", says Holger Wagner.  
Holger is an AU alum from the SIS/MS class of 2002. He resides with his family in Nairobi working for Oxfam International on humanitarian assistance for Somalia and South Sudan.  
"One life saved, one child fed, one shelter built" is how Holger describes his motivation about what he is doing at the moment.  Somalia, in particular, is a fragile state and the ongoing fighting and prolonged drought have taken a considerable toll on local communities.  Holger believes that as long as a good number of people keep turning small wheels, change will be possible and Somalia can be re-built with a bottom up approach.  
Holger was an undergraduate student at Northern Michigan University and got his masters from AU. After graduating from AU, Holger became a practicum in Ghana with the Academy for Educational Development (AED). In 2003 Holger returned to D.C. to work for a development NGO managing grants, organizing training seminars, and monitoring the financial side of projects related to Ethiopia. However, both he and his fiancée decided to return to Africa after getting married in August of 2003. Holger and Andrea arrived in South Africa and in early 2007 they made the move to Kenya, where Holger first worked for a Somali NGO for two years and since early 2009 for Oxfam International.   
Holger has three children, Zoë (5), Noah (3), and Niall (1). Zoë can speak three different languages including English, Zulu, and Kiswahili. Holger hopes that by high school, his children will be able to speak in five different languages allowing them to communicate somewhat with a large part of the world's population.