Student Success Story
Student Profile: Katie Gale
By Genesis Keller
October 19, 2009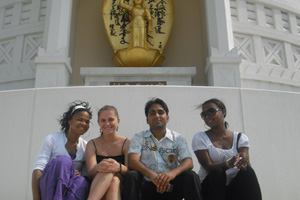 Literature majors are stereotyped as Shakespeare loving, Thoreau-following people. However; Katie Gale, a junior at AU, spent her summer on an Alternative Break to Nepal, instead of reading plays and living like a transcendentalist.
During the summer, DB Bishwakarma and Precious Frazier led an alternative break trip to Nepal, which was a life changing experience for the group. These students were led to Nepal to be educated on the fight for human rights, especially for the Dalit "untouchables" class, which is outside of the Hindu caste system. Bishwakarma offered all participants the opportunity to meet with various members of the Nepali society from the grassroots organization to the Prime Minister of Nepal. Students had the opportunity to meet with a variety of organizations, participate in a village home-stay, and build relationships with the Nepali people that will last a lifetime for many of them.  
"My experience far surpassed my expectations," explained Gale. "I had no idea our interaction with the Nepali people would be so rich and rewarding. My knowledge on a wide range of issues, from sustainable development to gender education, and everything in between, is infinitely more nuanced and specific. At every turn, there was a new experience more meaningful than the last."  
Gale will be leading an Alternative Break Trip to Nepal  this upcoming summer because she was greatly impacted with her experience to Nepal the first time. Gale is currently working as an intern for Bishwakarma's organization, the International Commission for Dalit Rights (ICDR), and is considering a change of career path into international development.  
If you are interested in learning more about the trip that is returning to Nepal in summer 2010, please visit www.american.edu/altbreak for more information.