Student Success Story
A Life Dedicated to Service: Kim Plewes
By Bekah Moore
November 25, 2009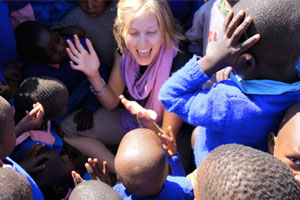 Since the age of 12, Kim Plewes has dedicated herself towards helping others. Most of her work has been through an organization called Free The Children. Free the Children is an organization that focuses on providing for the needs of children and families, who are left helpless after war, poverty, or natural disasters.  
Founded in 1995 by a 12-year-old boy, Free the Children provides a way for children to get involved in global issues in order to facilitate change. Currently, the organization is reaching forty-five countries and over 3,000 schools in North America are involved with their efforts. 
In 1998, at 12-years-old, Kim took her first trip to Nicaragua where she "helped to build a school and teach English." Kim visited homes and learned first-hand from the people about what it is really like to live off of $1 a day.   
After graduating from high school, Free the Children offered Kim a full-time staff position, which she accepted and stayed with them for four and a half years. While working with Free The Children, Kim had the opportunity to travel and speak at various venues, including middle and high schools, and work with impoverished children in seven countries. In her spare time, Kim has managed to travel to a total of 35 countries on her own.  
As a freshman at American University, Kim is studying Peace and Conflict Resolution, International Development, with a regional focus on Africa, and is very likely to rejoin the Free the Children staff following graduation and during her summer breaks. Although her workload is now smaller due to her role as a full-time student, Kim continues to speak at local events and train new workers when needed. 
Working with Free the Children "has helped to shape my world view but also how I think I can contribute to the world," Kim commented. "A lot of students come into school majoring in mathematics or writing or public speaking but don't think creatively about how they can use that gift. They think just because they like to be an accountant they have to work in a bank or file peoples taxes but working with Free the Children has showed me that anyone can use their gift to help others. And that spending my life helping people is possible and something I can be proud about."