Information Services - (202) 885-1000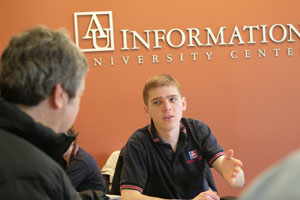 University Center Information Desk - (202) 885-3387

Located on the first floor of the Mary Graydon Center, in the center of campus, the University Center Information Desk provides general information about campus departments, events, and information about the Washington DC area community.
University Center Information Line - (202) 885-1000
Need directions? Know a name but not their number? Not sure what you need?

The information line can help direct you to the appropriate office. If you have a general inquiry or you are unsure which office or person you need to contact, just call the information line and we will put you in contact with the appropriate office to assist you.

Mission Statement: The University Center Information Desk acts as the main information center for the entire campus and offers a multitude of services to meet the needs of the AU campus and community.


Hours of Operation
Sunday - Thursday 8:30am - 8:30pm
Friday and Saturday 9:00am – 6:00 pm
Information Desk Contact Information
(202) 885-3387
university_center@american.edu