Mary Graydon Center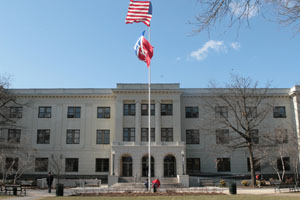 Photo by the Talon Yearbook.


The Mary Graydon Center houses the following departments, programs and services:
Ground (Terrace) level
• Dining Services Administrative Offices• Terrace Dining Room (TDR) – contract dining main venue
First floor
• Catering Services Administrative Office• Marketplace (Block Express, Panini Express, Einstein's Bagels, Field of Greens) • Marketplace Lounge • Pura Vida Coffee • Cyber Café • The Tavern (American Pi) • University Center Information Desk • University Center Main Lounge • University Club (faculty/staff lunch room, MGC 1-3) • University Club multipurpose rooms (MGC 1-6)
Second floor
Student Organization Offices
• AmLit Literary Magazine• ATV offices and studio• AU Club Council• The Eagle student newspaper• Greek Life Leadership Councils (IFC, NPHC, Panhellenic)• Kennedy Political Union (KPU)• Student Advocacy Center (SAC)• Student Government (AUSG)• Student Union Board (SUB)• Undergraduate Senate• ATV• WVAU radio
Campus Life Departments
• Academic Support Center• Community Service Center• Counseling Center• Disability Support Services• Gay, Lesbian, Bisexual, Transgender and Ally Resource Center• Multicultural Affairs• Student Activities• University Center/University Event Scheduling
Meeting Rooms
• MGC 200 (Gianni Lounge)• MGC 203• MGC 205• MGC 244• MGC 245• MGC 247
Third Floor
• Mary Graydon 3rd floor is currently home to the School of Communications (SOC). Plans are in development to relocate SOC to the McKinley Building, at which time the 3rd floor will become part of the University Center.