University Center Building Directory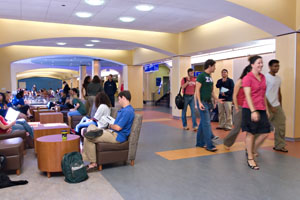 The University Center is a three building floor plan comprising Mary Graydon Center, Butler Pavilion and the Sports Center.
The Mary Graydon Center (MGC) is the home to the departmental offices for the University Center, as well as numerous Campus Life departments, meeting rooms and food service locations.
Butler Pavilion houses the Campus Store, Career Center, and the Office of Campus Life.
The Sports Center is the home of the AU Eagles Athletic Department and both the Jacobs Fitness Center and Bender Arena.
The Tunnel is located underneath Butler Pavilion and between the Mary Graydon Center and Bender Arena. The Tunnel contains several shops to service the needs of the American University Community.