ATMs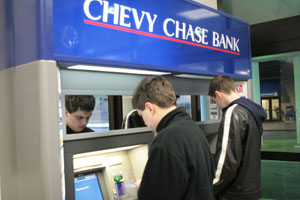 Photo by the Talon Yearbook













Capital One Bank has three Automated Teller Machines (ATM) within the University Center, two of which have deposit capability. 
The first ATM location can be found on the First Floor of the Mary Graydon Center, next to the main staircase.
The other two ATMs are both located on the First Floor of Butler Pavilion and right across from Megabytes Café in the Tunnel area.  These two ATMs are adjacent to each other and both feature deposit capability in addition to the other normal ATM functions.
Our Capital One Bank campus branch is located across from Bender Arena in the Tunnel Area which is the roadway which passes underneath the Butler Pavilion.  They provide full service banking right here on campus and their normal hours of operation are M-F 9am-5pm.