Chalking Guidelines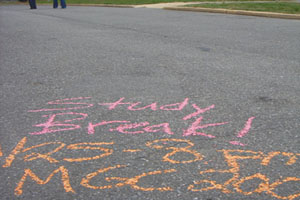 At American University, student organizations and campus program are free to chalk on outdoor surfaces according to the guidelines listed below.  These guidelines are created to accommodate the free exchange of ideas and the promotion of campus programs or events while balancing the needs of the campus to care for the facilities and grounds throughout the academic year.
Content
The content of all chalking should be consistent with the Student Code of Conduct and the Freedom of Expression Guidelines, as found in the American University Student Handbook.
Materials
Hand-held blackboard or sidewalk chalk is the only material approved for chalking.  The use of spray chalk or chemicals to enhance the advertisement is also prohibited. Permission to use any other material for these purposes must be pre-approved in writing by the Physical Plant.  Other material used without this permission could result in reimbursement charges to the host group, department, or individual responsible for the chalking.
Permissions
Permission to chalk on approved surfaces is not needed. Permission from the Physical Plant is needed to use materials other than hand-held blackboard or sidewalk chalk.
Locations
Chalking may be applied to asphalt and concrete roadways, sidewalks, and pathways on AU property.
Chalking may not be applied to:

stairs or stairwells
landings above ground level 
raised walkways 
building walls, windows, doors, or roofs 
benches 
slate surfaces 
plants or trees 
campus sculptures, artwork, or memorials
Removal
Generally, sidewalk chalk will be left to the natural elements for removal.  However, AU reserves the right, at its own discretion, to remove any chalking at any time.