Tavern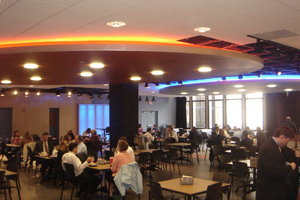 Photo by the Talon Yearbook













The Tavern is located on the first floor of the Mary Graydon Center and is the home for two food service locations, Salsa and the Tavern eatery.
The space doubles as a flexible event space during nights and weekends for students and staff to program for the community.

In the past, student organizations and departments have hosted movie nights, graduation receptions, private lectures, and art and crafts in the Tavern as well as performers such as Talib Kweli, Phantom Planet, Gavin DeGraw, and Vanilla Ice.

Seating capacity for the Tavern is 175 persons with tables and chairs. For open, standing room concerts, generally the capacity of the space is 650 persons.